A great summer time meal for boaters
Grilled salmon is one of our favorite meals. Since we are moored so close to the Wild Salmon Seafood Market at Fisherman's Terminal, we love to pick up the catch of the day and grill it on the boat.
Recently, we were in Gig Harbor and we stopped by a spice shop called "For the Love of Spice".  They specialize in handmade spices and we bought "The Catch of the Day" spice for fish.  Pair your fish with grilled summer vegetables and you have the perfect meal!

Print Recipe
Grilled Salmon with Summer Vegetables
Yum
This is the perfect summer meal and it is easy to prepare!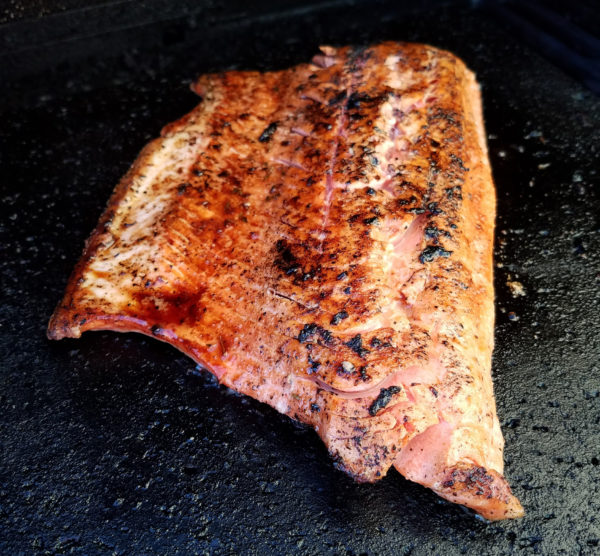 Grilled Summer Vegetables
Rinse and pat dry salmon. Rub 1 tbsp of olive oil on flesh side and rub in seafood spice all over. Set aside.

Combine 1 tbsp of olive oil with crushed red pepper flakes, kosher salt and fresh ground pepper.  Toss olive oil mixture with chopped vegetables. Light grill to high heat. Place veggie grilling basket on grill to heat up. Once pre-heated, grill the salmon to your liking.  Put veggies in grilling basket and grill until tender.  Serve salmon with lemon wedges and serve immediately.
Be sure you know if the water in your boat's holding tank is clean and safe for food prep. If not, use bottled water to rinse your seafood and vegetables. See my blog post about potable water.
We use a grilling stone made out of lava both at home and on the boat.) On the boat, we have a Magma Grill, which we love.