Vegetarian Enchiladas
Vegetarian enchiladas on a boat? Okay, so I know we can't make enchiladas on our boat unless we get a toaster oven. Scott and I have looked into getting one, but we don't know how much time we would spend on the boat during the winter. A toaster oven would take up a lot of counter space and during the summer, we use our Magma Gas Grill
Then there's the question, of which one to buy? There are many choices out there and since we don't own one personally, we wonder what would be best? For me, I would want one that can easily bake without scorching the food. At the same time, I don't want to spend a lot of money on something we might not use a lot. So stay tuned and we'll let you know what we decide.
In the meantime, I still wanted to share with you one of my favorite healthy recipes. This is a great dish for a Sunday evening after you have spent all weekend boating and want some healthy comfort food. In this recipe, we are using canned green enchilada sauce for ease of prep on a boat.
This recipe does call for a lot of chopped vegetables. As I have mentioned before, I love my Onion & Vegetable Chopper. Here's a quick demo video:

This post may contain affiliate links for products I mention.

Save
Print Recipe
Vegetarian Enchiladas
Yum
These vegetarian enchiladas are so delicious that even the meat lovers love them!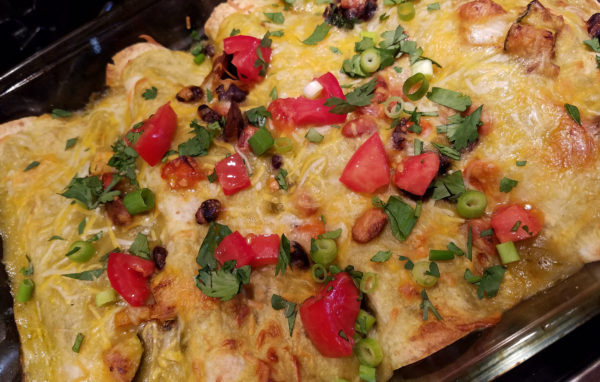 | | |
| --- | --- |
| | |
Heat olive oil in a large skillet and saute' mushrooms, onion and bell peppers. Season with crushed red pepper flakes, salt, pepper, chili powder and cumin. Cook until tender and add garlic. Add zucchini and black beans and remove from heat.

Pre-heat oven to 375º. Warm tortillas in microwave under a moistened paper towel for about 15 seconds. Grease a 9 x 13 casserole dish and spread about 1/8 cup of enchilada sauce in the bottom of the dish. Holding a tortilla, fill it with about 1/6 of the bean mixture and carefully roll up and place in dish. Repeat with remaining tortillas. (If you have left over bean mixture, you can spread it on top of the enchiladas). Pour enchilada sauce evenly over all of the tortillas, covering each of them. Sprinkle cheese and cover with non-stick foil. Bake for 20 minutes and then remove foil and bake for another 5 minutes.

Top with chopped green onions, cilantro and tomato. Serve immediately.