Smoked Salmon Potato Chip Appetizers Recipe
For your next gathering, be sure to make these smoked salmon potato chip appetizers! They are so easy, elegant and perfect for entertaining on your boat or during your next cocktail party. In this recipe, I use lox style smoked salmon. it's much more delicate and the presentation is gorgeous. One of my favorite smoked salmon brands lox style is Echo Falls Beechwood Smoked Atlantic Canape' Slice Salmon. You can find it at your local grocery store.
There are many appetizers out there that are beautiful & tasty, but the prep time can really be an issue. What I love about this recipe, is you can whip it together in just a few minutes. You can even make ahead and refrigerate about 45 minutes before serving. Folks will gobble these up, so plan on making at least four chips per person.
Most galleys are on a boat are small and don't offer a lot of prep space. That's why I try to make items that don't require mixing bowls or lots of counter space.  If you have a favorite recipe that you make on your boat, please share with us.  Enjoy! Scott & Ally
Print Recipe
Smoked Salmon Potato Chip Appetizers
Yum
These smoked salmon potato chip appetizers are a crowd favorite. You can serve them at your next elegant dinner party or after a day of boating. You only need a few ingredients and within a few minutes your appetizer is ready to serve. Enjoy!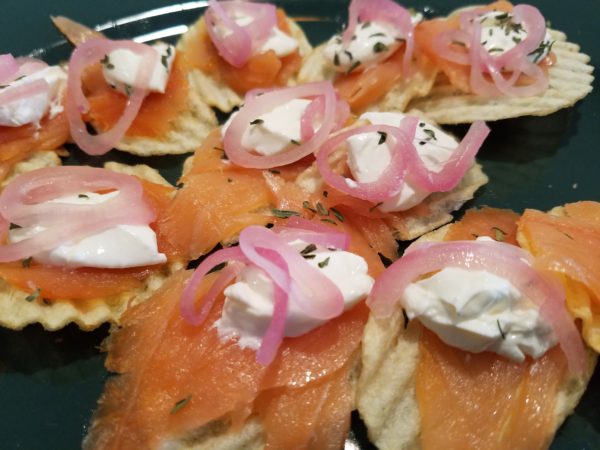 | | |
| --- | --- |
| | |
You can assemble the potato chips about 40 minutes before serving. Line a platter with the potato chips and place a dollop of sour cream on each. Gently place a bite size piece of smoked salmon on top, then a few rings of pickled shallot and sprinkle with Italian seasoning.

Variations: Add capers, caviar and or chives
In a small sauce pan combine vinegar, water, salt and sugar. Bring to a boil and stir until salt and sugar are dissolved. Remove from heat and let cool. Pour liquid into a mason jar or a container with a tight seal, add bay leaf and sliced shallot. Refrigerate for at least 5 hours. Pickled shallots can be stored in the fridge for 2-3 weeks.