Boat Show Takeaways including Safety & Comfort
At this year's Seattle Boat Show, Scott and I found ourselves talking to different vendors about safety and comfort.  If we are going to keep Kokomo for another year, I want to make some changes to help improve these items.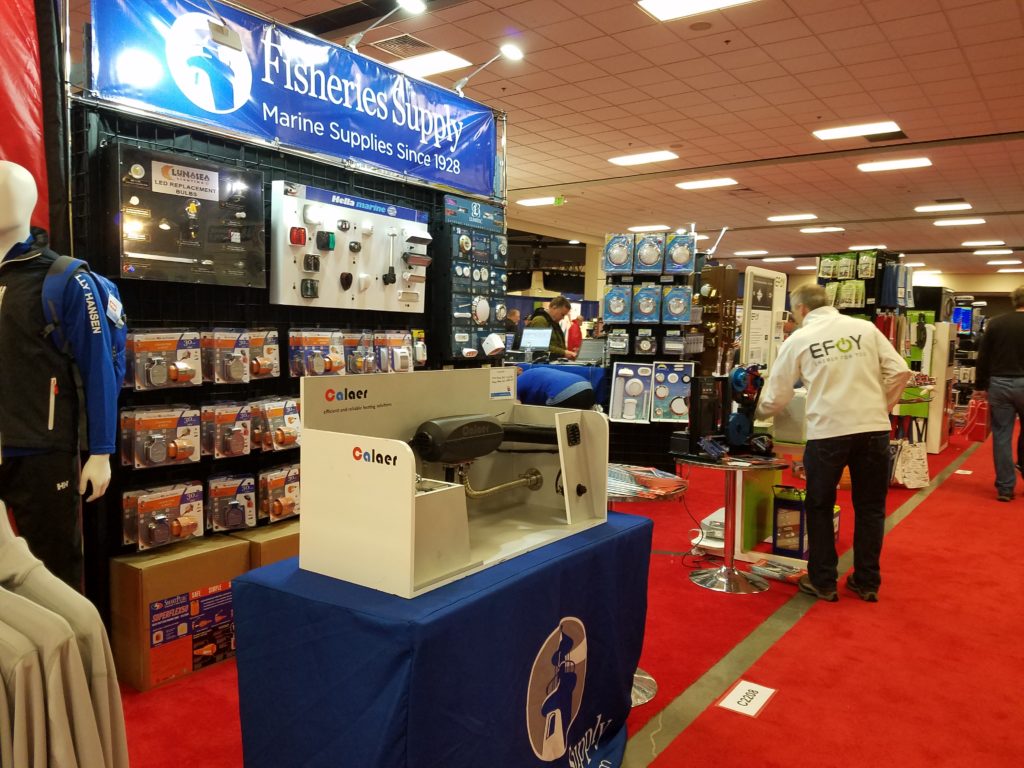 SmartPlug
I had read about the SmartPlug product and we were thrilled that we got the chance to talk with them since boat safety is so important to us. Basically, this shore power kit, replaces not only your power cord, but also the plug in on your boat. The primary purpose of this is to prevent fires (which is one of my biggest fears). Did you know that shore power delivery systems have remained virtually unchanged since they first came out in 1938?!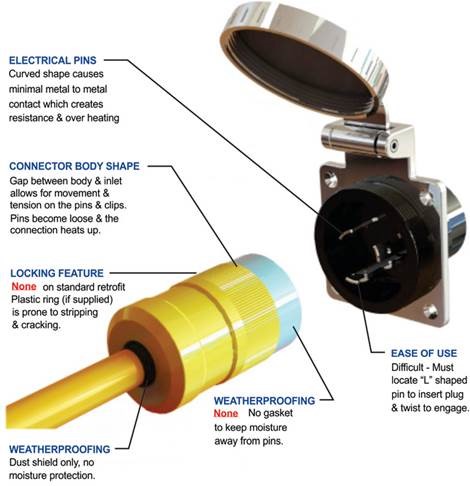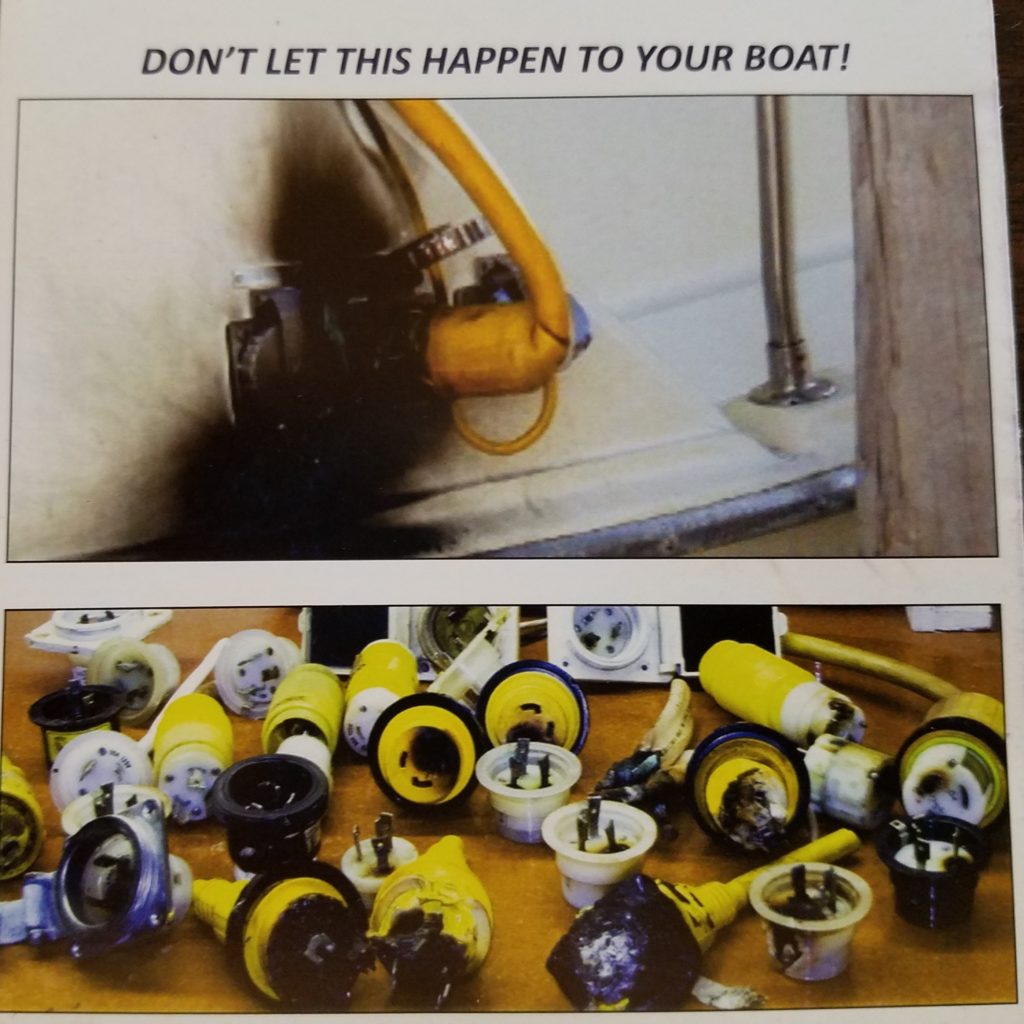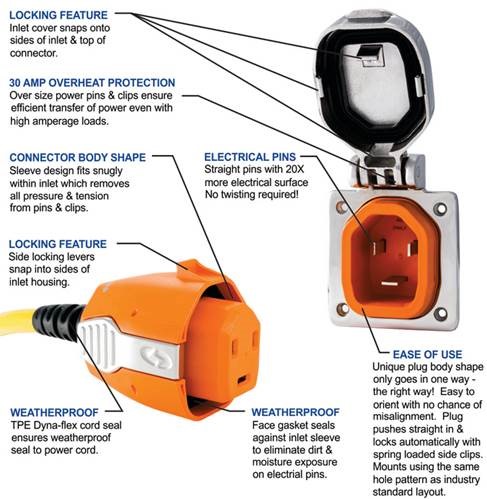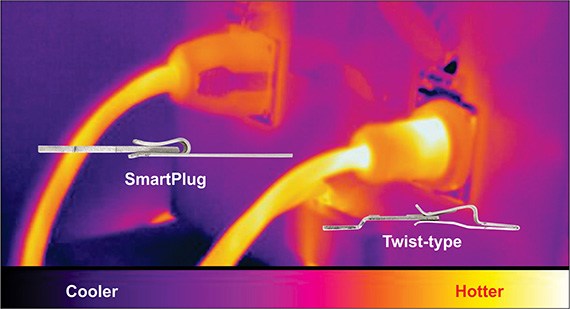 After talking to the rep, the installation is very easy. Simply remove the four screws on the old plate, cut the wires and insert them into the corresponding slots for each wire. The key here is to make sure the new plate is sealed tightly!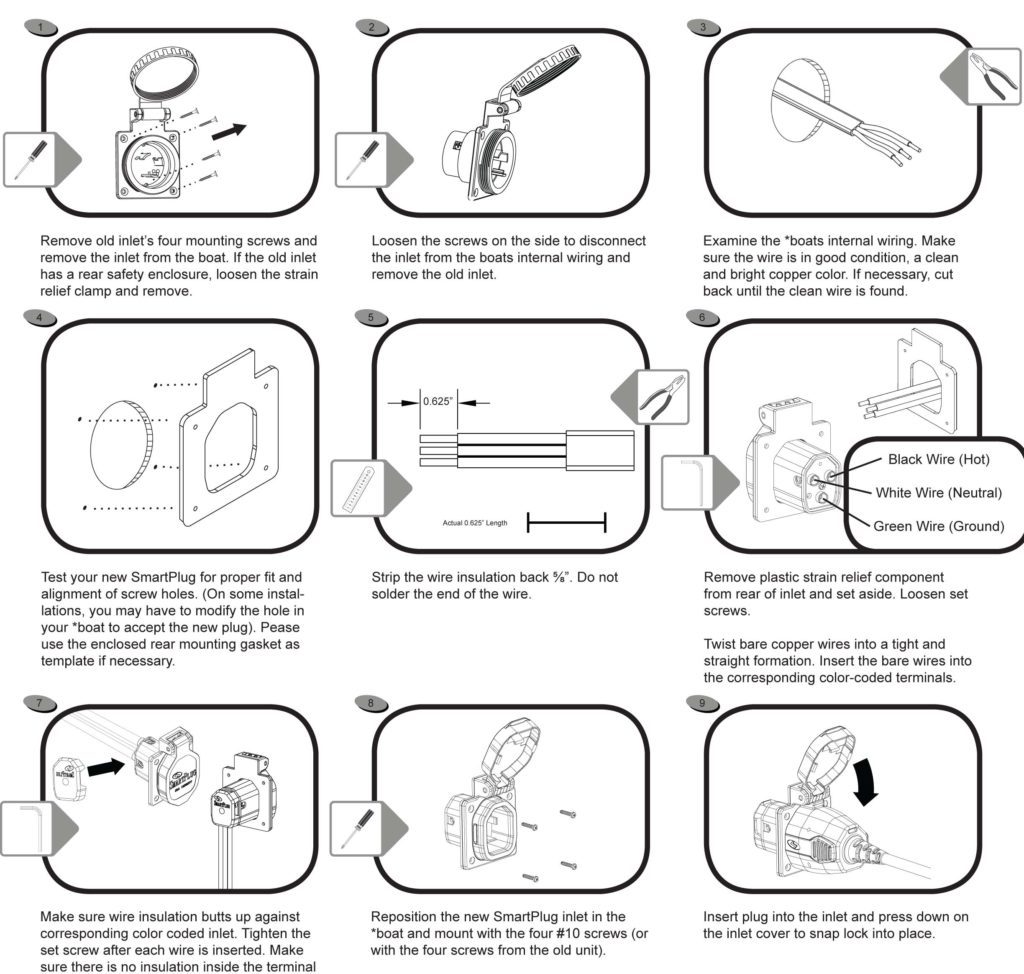 You can buy the entire kit or the parts separately. If we buy the entire kit with the adapter plate, the cost is about $400 for everything, but Fisheries Supply is offering a great sale right now, for about $275. To me, this is worth the cost and we will be swapping out our cord this year.
Side Note on Safety
A few weeks ago, Scott and I went down to check on the boat and run the engines as we have been doing all winter long. I was down in the cabin cleaning and Scott was up in the cockpit. The engines had been running for about fifteen minutes, as we wanted to get them up to temperature.  I decided to plug in the vacuum to charge it and laid it on the counter.
All of a sudden, a very loud alarm went off in the cabin! Scott and I couldn't tell where it was coming from, so I shouted at him to turn off the engines and I unplugged the vacuum (LOL). We kept looking up on the ceiling and finally we found the culprit.  Our carbon monoxide detector was up on the shelf in the galley and had been set off due to the engines running.  Turns out the curtains were hiding the detector, which you can now see out in the open.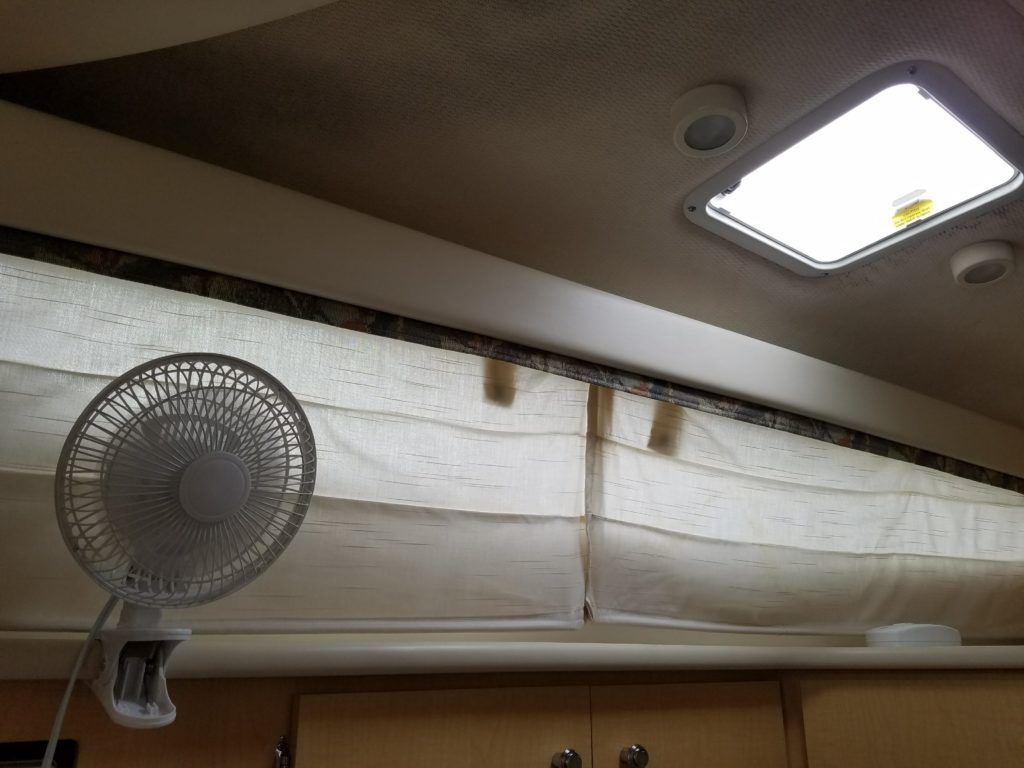 Moral of the story, is make sure you not only ventilate your cabin well while running your engines BUT also make sure you have a First Alert Carbon Monoxide Detector
. It works! Boat safety is your number one priority when boating.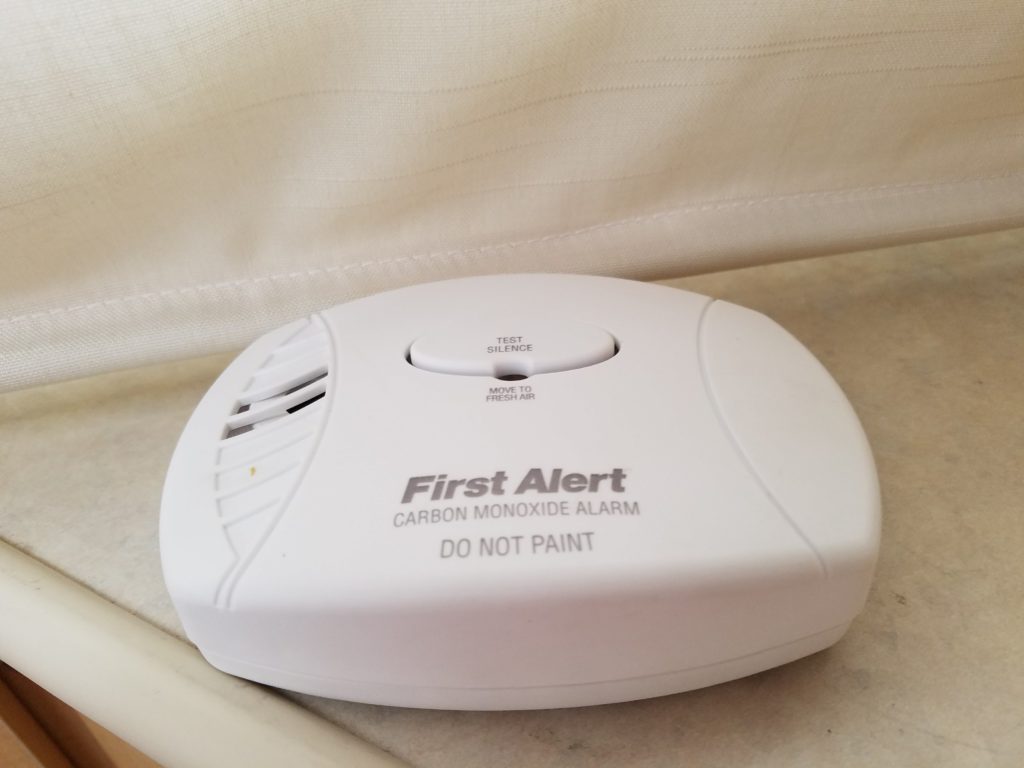 Boat Comfort
Okay, back to the boat show! One of our other goals (if we can afford it) is to upgrade our mattress on the bed. Right now, we have a somewhat thin pad. Here's a photo I took after "prepping the boat for winter".
Currently, we use two foam pads on top of the bed to help cushion ourselves.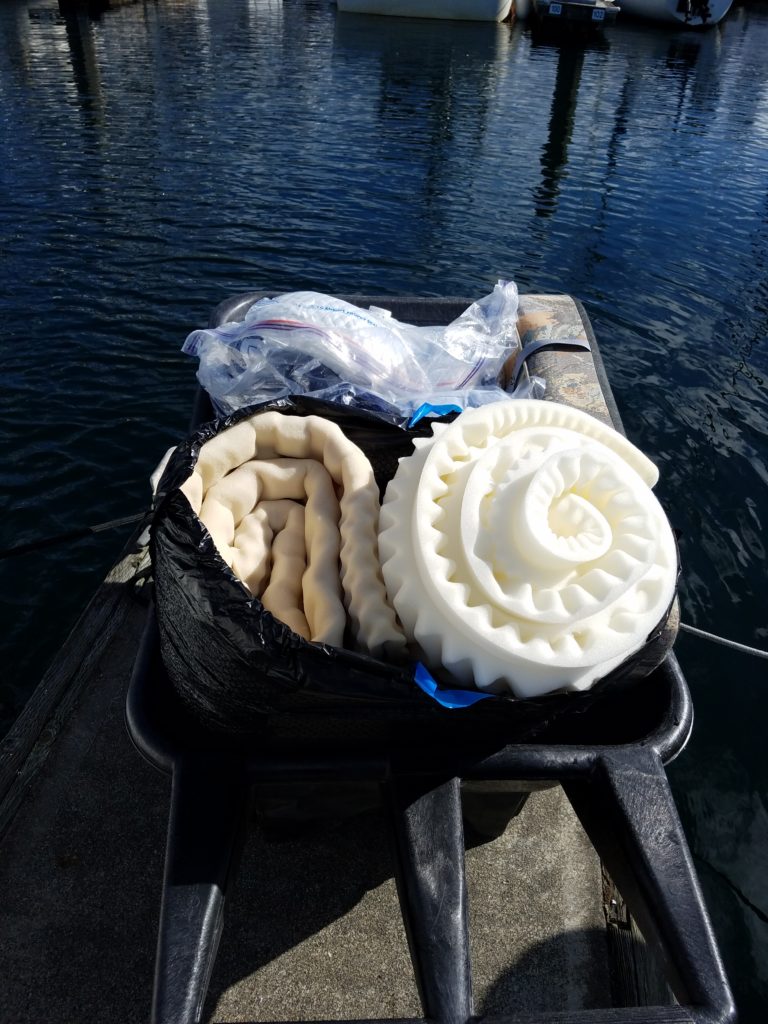 Even these two pads, don't make much of a difference.  So we talked to two companies at the show.
These guys have three locations in Seattle, Bellevue and Everett. You can visit their showrooms and try out different pads. They said I could even email them our dimensions and they would give me an estimate. We plan on visiting their showroom, as I wasn't comfortable laying on their beds at the show!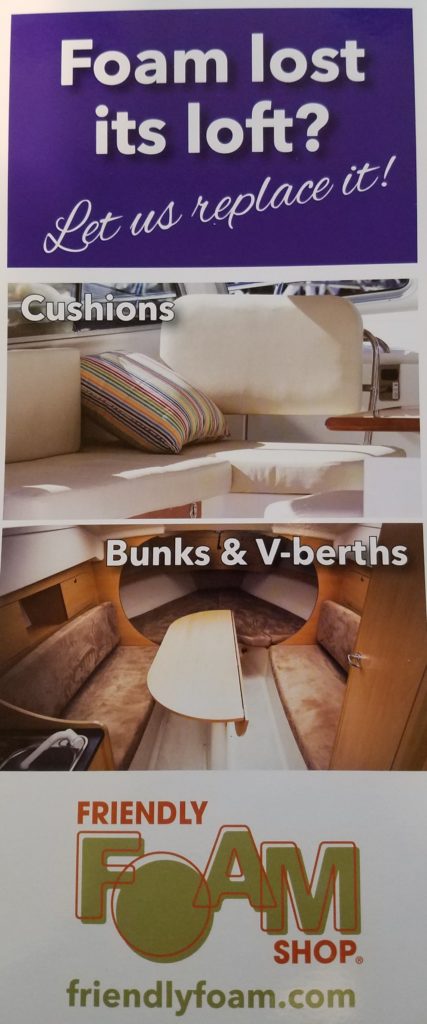 The other company, King Marine Canvas is located right near the marina on Commodore Way. Again, you can go into their showroom and check out all of their products. They make both mattresses with regular bedding covers or you can do a custom fabric like the one we have on the boat. Josh, the sales rep was super helpful and friendly!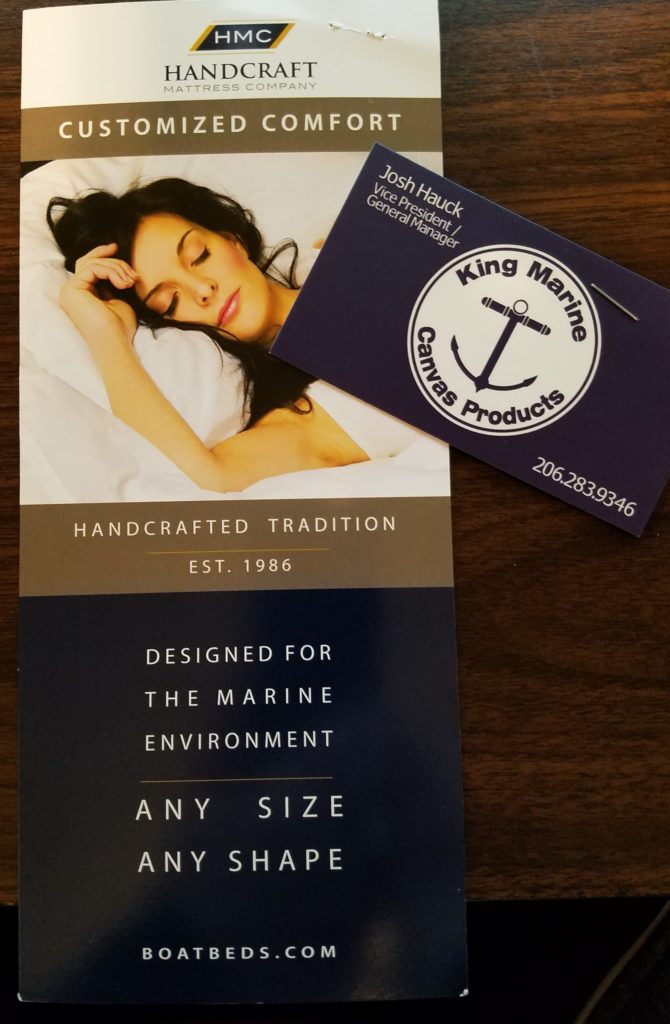 So hopefully, one of these will fit into our budget so we can finally sleep comfortably on the boat.
Needless to say, since it's February 2, 2018, we are ready for Spring & Summer to arrive. We are anxious to get the boat ready and spend some time on the water.  Stay tuned for our next update!
Cheers,
Scott & Ally
Be sure to follow us on Twitter, Facebook, Instagram and YouTube!