Finding Live Aboard Marinas
Live aboard marinas is a hot topic for boaters and one that a "non-boater" would not think about perhaps.  Scott & I attended the
Seattle Boat Show 
earlier this year. We met with numerous marinas in the Puget Sound area, only to find out, they either do not allow liveaboards or there is over a one year wait list!
That's the same scenario of needing to find daycare before you are pregnant. If our whole plan is to move out of our house and onto a boat, how in the world can you do that immediately when you buy your boat? Answer is you don't, unless you get on a wait list.  And those aren't free. After meeting with several marinas, we found out that the wait list fees run anywhere fro $25-$150. Again, you don't even own a boat yet! Crazy.  So we figured this past spring of 2016, we would visit a couple marinas and find out what they had to offer.

Foss Harbor Marina
First was the
Foss Harbor Marina
in Tacoma.  We met the manager during the boat show and he was extremely friendly and helpful. In fact, one of his residents was there and couldn't say enough great things about the marina.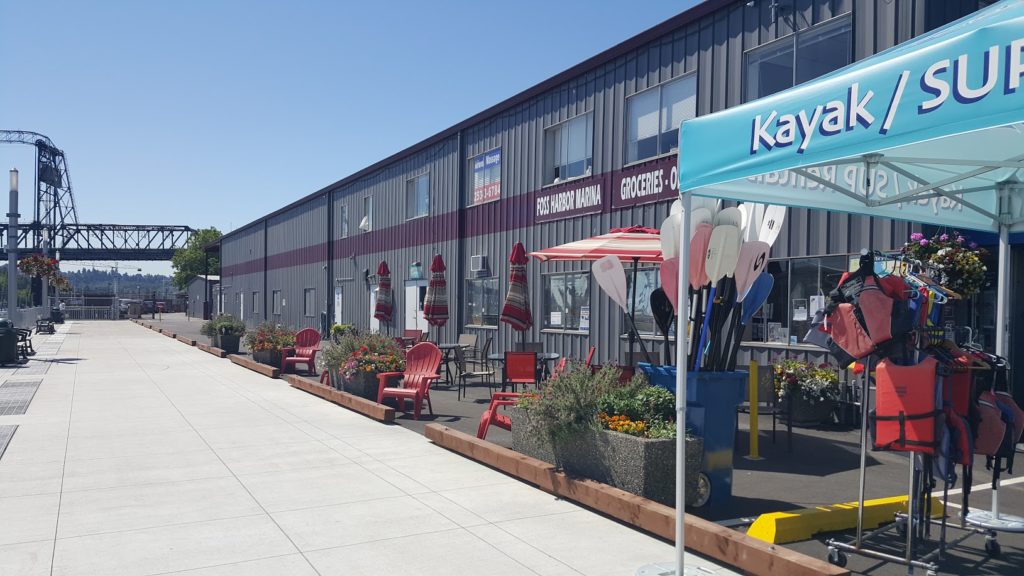 The parking was very limited for guests and we happened to park right in front of the office and "general store".  At the store/marina you can rent kayaks and SUPs. They gave us a key and a quick verbal tour for us to go check out.  The store was well stocked, including good WINE and it was priced just like a regular wine shop! (Bonus!)  Next to the store was the community center (no you can't have a wedding here, but it's perfect to watch t.v.) that had a large t.v., coffee maker, games and books, perfect for a small gathering (i.e. football game).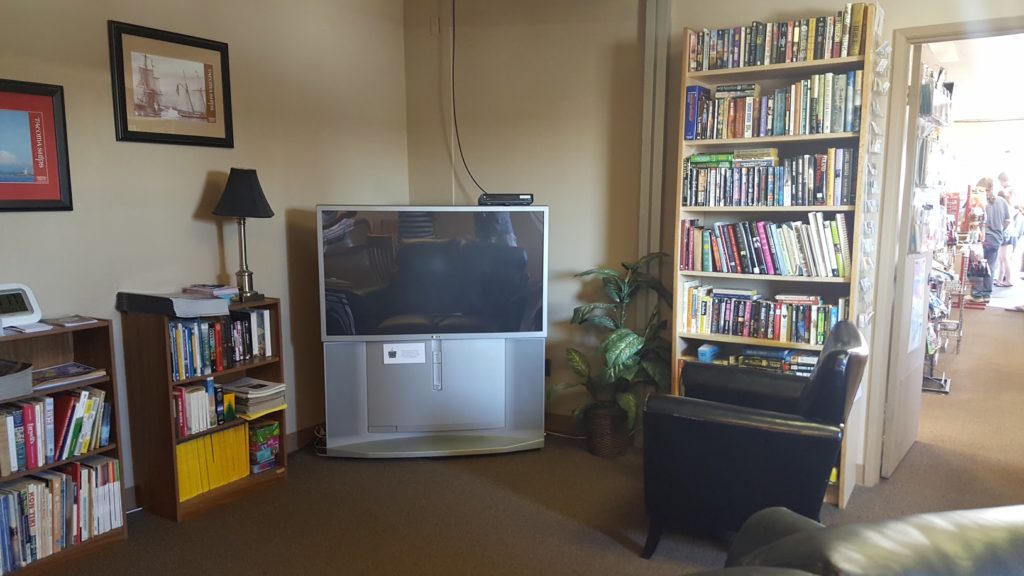 The restrooms were secured and each offered two showers and sinks, toilets and mirrors.  Nothing fancy, but would certainly work great.  The docks have a secured entrance, which is great. From there, we walked down to the docks and they are floating docks. So the main plankway can be either very steep or not so much depending on the tide. Most marinas these days offer floating docks, otherwise your dock could be 5′ below your boat! (LOL)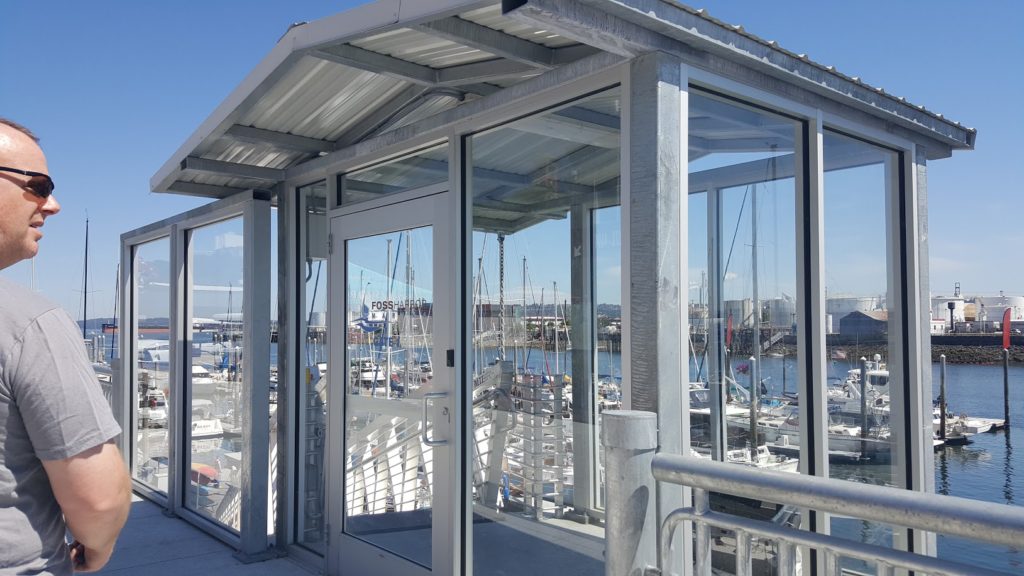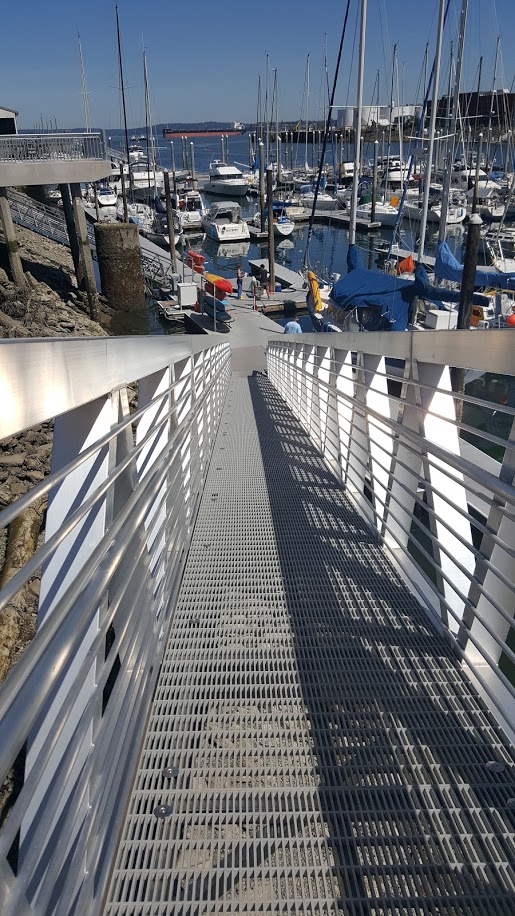 The marina was small and intimidate, which we like. It also has a great view of Mt. Rainier and it's own fuel dock. The prices at the fuel dock were actually very reasonable.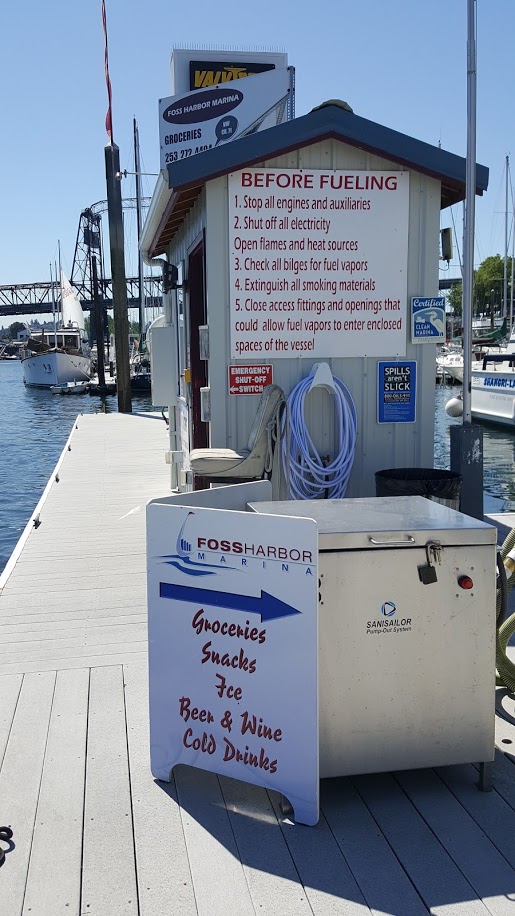 If you worked in Downtown Tacoma, this would be a great commute!!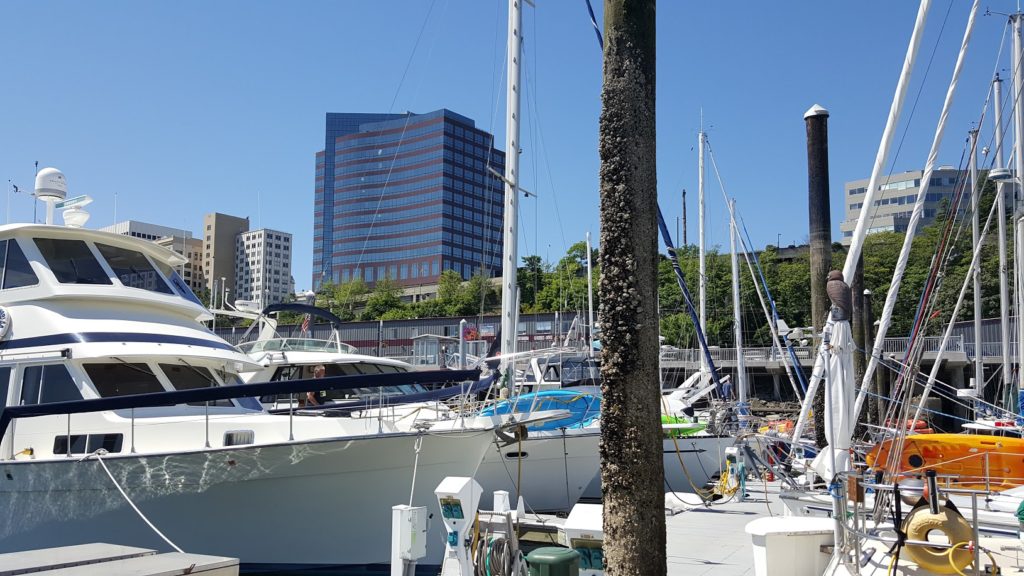 The mooring prices were fairly standard for marinas and they had a 3 month wait list and their fee was $25 (I believe)….it was very nominal.  Definitely a marina we would consider.  The only cons we had, were limited guest parking and not walking distance to restaurants/bars.
Port of Everett Marina
A few weeks later we visited the
Port of Everett Marina
.  If you don't know about this one, it is the largest public marina on the west coast in the U.S.
Yes, this place was massive. In fact, we ate lunch at one side (the left) and had to drive to the office (the right). Definitely not walking distance.  They had plenty of space for 50′-65′ boats and the marina offers not only regular amenities such as showers and parking, but many restaurants and bars within walking distance. It did not have any type of convenience store. It is located at the northern end of Puget Sound, so as you can see by the photo it has great access to our northern islands and is also very well protected.
Here's our view from lunch on the south side of the marina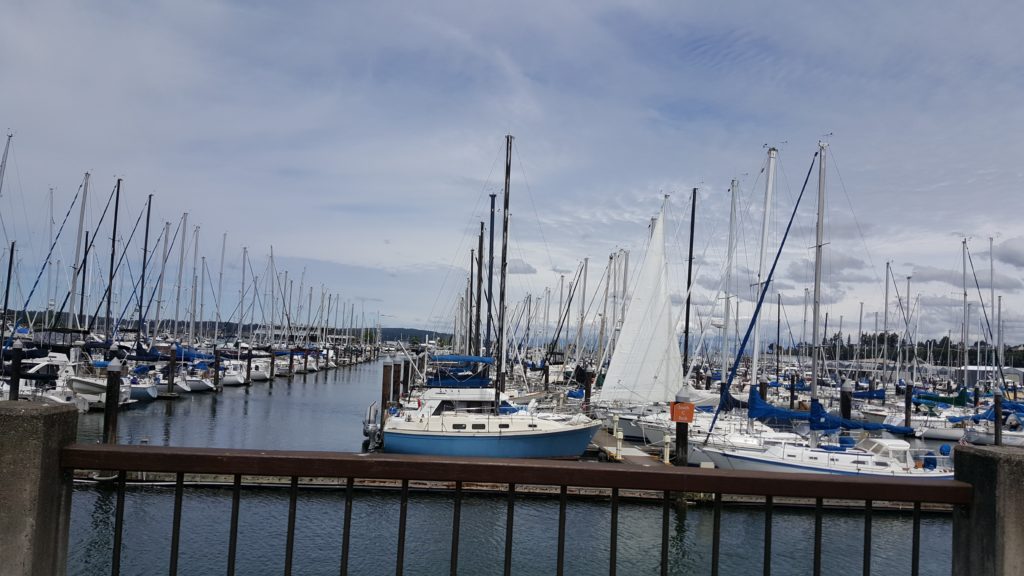 The downside, was not only the commute distance (yuck!), but the cost of the mooring. With everything said and done, the cost was about $17 per foot and the docks for the larger boats are quite a bit away from everything – except the large fishing boats that were being worked on. You wouldn't want to be taking a nap – just sayin.  But we did like the proximity to restaurants the sound.  They had a 3-8 month wait list and I believe their fee was about $125.
 Since we have no idea what in the world we are doing yet, no wait lists or fees now. We have a few more to look at, but our options are very slim.  Odd for such a large boating industry in the Puget Sound.