Butternut Squash is a Fall Favorite Dish
It has been so hot and dry this summer in Seattle that everyone is just waiting for the changing of seasons. Finally it got into the 50's yesterday and I was ready to make a Fall dish. I grow lots of sage, so I decided it was time for my roasted butternut squash ravioli.
Normally, this isn't a recipe you would prepare on a boat. You could though, since you only need two burners, so I decided to share it with everyone. At home, we have a Cuisinart SmartPower Duet Blender
& Processor which is much smaller than a regular food processor. It would work great on a boat, based on it's size. I also don't make the raviolis from scratch, I use won ton wrappers. They are much easier and lighter than traditional pasta dough.
I like to pair this with my super greens roasted beet, walnut & blue cheese salad for a elegant meal.
Print Recipe
Roasted Butternut Squash Ravioli with Sage Brown Butter Sauce
Yum
This ravioli dish is rich and elegant for any dinner party. The butternut squash has a light sweetness to it and topped with the brown butter sauce this is a great comfort food dish.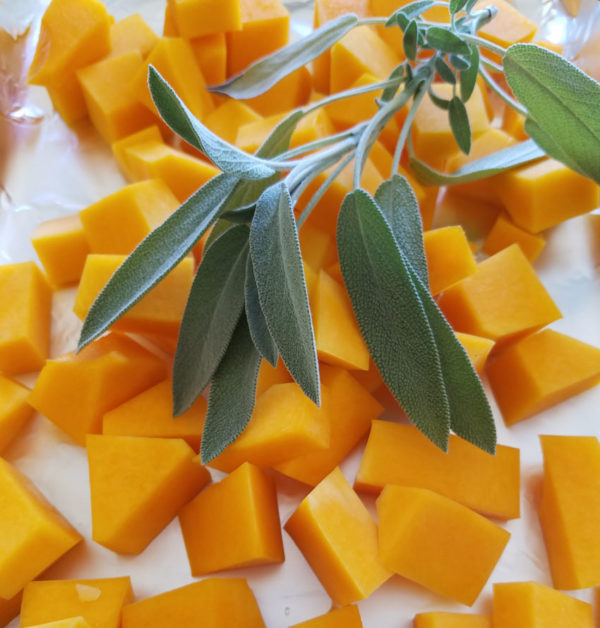 | | |
| --- | --- |
| | |
Pre-heat oven to 375º. Spread squash evenly on a foiled cooking sheet and drizzle with olive oil. Season with salt and pepper. Place 3 garlic cloves (peel on) on the same cookie sheet. Bake for about 35 minutes until tender.
Place roasted squash & garlic cloves with remaining filling ingredients (except won ton wrappers) in food processor and puree until smooth. You may have to do this step in two batches, depending on the size of your food processor. Line a cookie sheet with non-stick foil. Place one won ton wrapper on a non stick surface. Brush edges with water and place a heaping teaspoon of puree in the center. Take another wrapper, brush the edges with water and place carefully on top of the wrapper with the puree. Seal edges tightly using your fingers and then crimp edges with a fork.

Line a cookie sheet with non-stick foil. Place prepared raviolis and repeat until you make 16 or more raviolis. Fill a large pot with water and bring to a subtle boil. Boil raviolis for about 4-5 minutes on medium. (You want the raviolis to boil gently so they do not break open). Carefully drain by removing the individual raviolis with a strainer onto serving plates (do not dump into a colander).
Once raviolis begin to boil, begin making the butter sauce. Place the stick of butter in the center of a 12" saute' pan and melt on medium high. Once the butter starts to get frothy, stir in sage leaves (they will fry in the butter), nutmeg, salt and pepper. Continue cooking for about 1-2 minutes until it is caramel in color and nutty. Pour sauce over raviolis, sprinkle with toasted pine nuts and serve immediately.