Authentic Jerk Sauce from the Caribbean
There are many recipes out there for jerk sauces and I have tried many of them. Since Scott and I travel to the Caribbean every year, I know the flavor I am wanting and none of the recipes I ever tried mimicked what we had in the Caribbean.
Finally, we met a cook in Jamaica that gave me his secret recipe, which is very rare.  I've made some slight changes to it (for example, I don't use cinnamon sticks in my blender) to finally get the flavor I want.   It's the real deal and awesome!
I love to pair this recipe with many of my Caribbean recipes such as my Caribbean Slaw and Black Bean Salad.
Print Recipe
Grilled Jerk Pork Chops with Sweet Potatoes
Yum
These grilled jerk pork chops are very flavorful and are bit spicy. The heat is not overbearing and they pair perfect with sweet potatoes.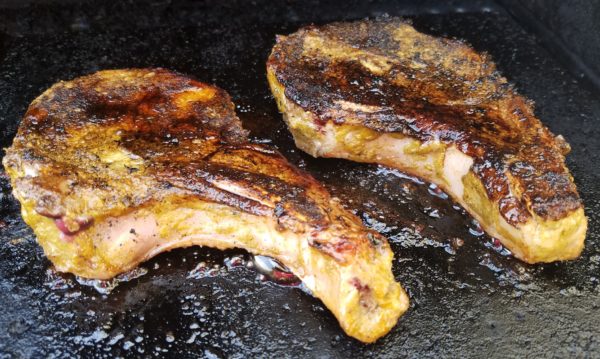 Pork Chops & Sweet Potatoes
| | |
| --- | --- |
| Pork Chops & Sweet Potatoes | |
Puree all of the jerk sauce ingredients in a blender until smooth. The sauce will be very green.
Pork Chops & Sweet Potatoes
Pour the jerk sauce into a zip lock bag and marinate the pork chops for up to 24 hours. Pre-Heat Grill to med-high. Remove the pork chops from marinade and bring to room temperature for about 20 minutes before grilling. Meanwhile, peel the sweet potatoes and slice into 1" slices. Place potatoes in cool water and bring to a boil. Boil for about 10 minutes until they are slightly tender, but not falling apart. Strain potatoes and brush them with olive oil. Sprinkle Emeril's Essence spice and kosher salt on all sides. Grill pork chops on medium high for about 10 minutes or until internal temperature is 135º. Grill sweet potatoes for about 3 minutes are on each side. Serve immediately.