Chicken Chili for those tailgating nights!
White chili, also known as Chicken Chili is a favorite in our house. Now that Fall & Winter is arriving, who doesn't love chili especially when watching your favorite football team? Chili is actually very easy to make on a boat in a small galley and it keeps for a few days for great leftovers.
While I love traditional chili, there's something about Chicken Chili that is just as tasty and makes me feel like I'm eating healthier! Happy cooking!

Print Recipe
Chicken Chili
Yum
This medium spicy chili is easy to make and a definite crowd pleaser. Even my husband, who only likes traditional chili loves this recipe!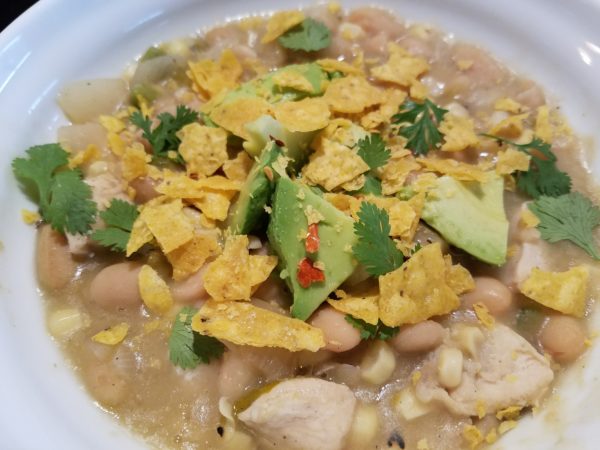 | | |
| --- | --- |
| | |
In a large pot, heat canola oil and add onion & jalapeno. Cook until tender under medium high heat. Add diced garlic and all of the spices and cook for about 2 minutes (do not let the garlic burn). Add 1/2 of the white kidney beans and smash them in the pot. Add chicken broth, bring to a boil and reduce to a simmer. Add corn, chicken, remaining white kidney beans and pinto beans. Simmer for about 25 minutes. If you want it thicker, add 1 tbsp. of water to the corn starch and mix thoroughly. Add to the chili, stirring to keep it from clumping. Serve with shredded cheddar cheese, diced avocado, sour cream, chopped cilantro & crushed tortilla chips.
Since I don't like chopping onions & other veggies, especially on a boat, I use my Onion Chopper by Müeller
  . It works great, collects the onion in the bin (no mess and no tears) and the clean up is easy!
This post may contain affiliate links for products I mention.