Finding the Perfect Boat Slip
How did we pick out our boat slip? It occurred to me yesterday, that throughout this entire journey I never really talked much about how we picked Elliott Bay Marina for the home of our boat Kokomo.
Let's go back to my blog that I wrote in August 2016 about "Live Aboard Marinas". Scott and I realized that not only were we challenged with finding the right boat, but also finding a place to moor it! I talked about the buying process in our blog "We're Finally Boat Owners". The entire process reminded me of when we started our wine shop. In order to get a liquor license you had to have a lease. In order to get a lease, we had to have a liquor license. Crazy.
At the last Seattle Boat Show we attended, we met with Elliott Bay Marina and Fisherman's Terminal.  Both were very helpful and eager to help us in a pinch. In the end, Elliott Bay Marina had nicer facilities, secured docks and the views were unmatched. Yes, the monthly moorage is a bit higher, but worth it to us. They also allowed us to reserve a spot before we owned the boat.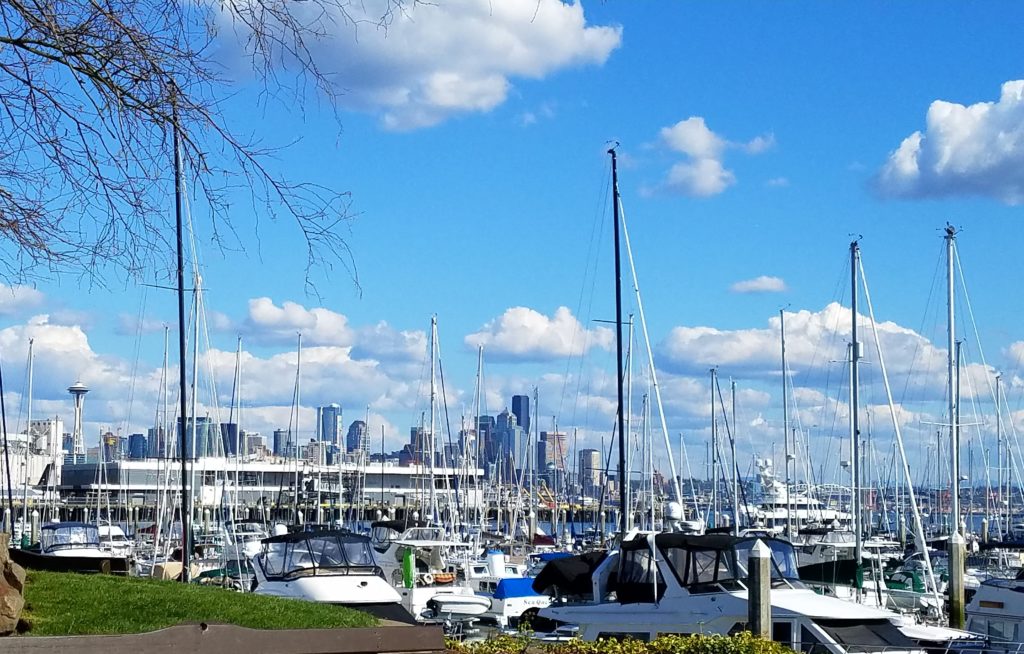 We found the marina, now what slip?
In all of the books I have read, one thing I have learned is the importance of liking your slip and slip mates.  Scott and I went down to Elliott Bay Marina on a sunny Saturday and met with Jordan and Brandon at the harbor masters office. They gave us a sheet with available slips and we then walked the docks N and M.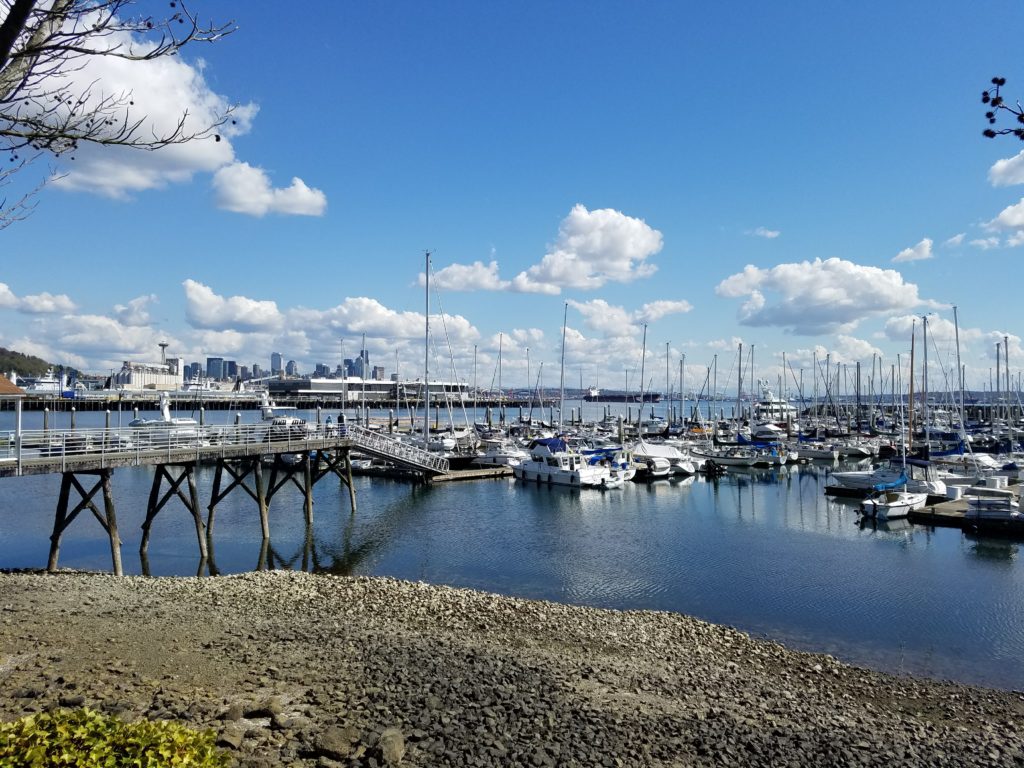 N Dock is the last dock on the east side of the marina towards Seattle.  All of the large yachts dock on the outside of N during the summer.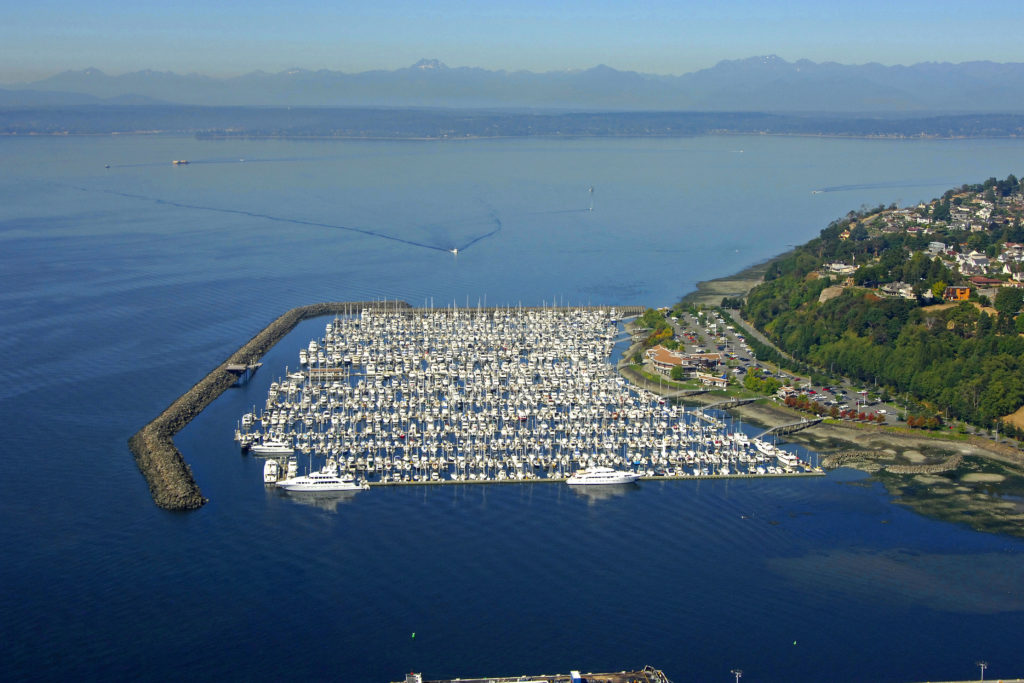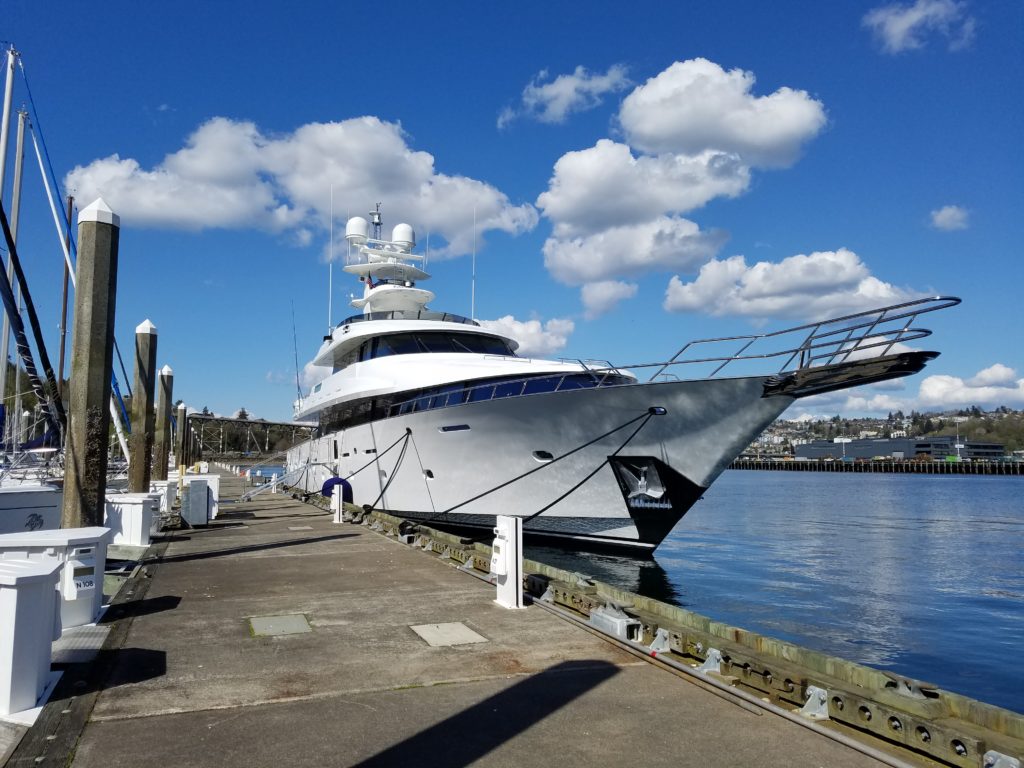 Our objective in looking for a slip
Scott and I had two objectives in finding our slip. One, was to find one with a view of downtown Seattle.  We knew that would be tough with all of the yachts on Dock N. What we didn't know at the time (because they hadn't arrived yet), was that the cruise ships would ruin that come summer anyway.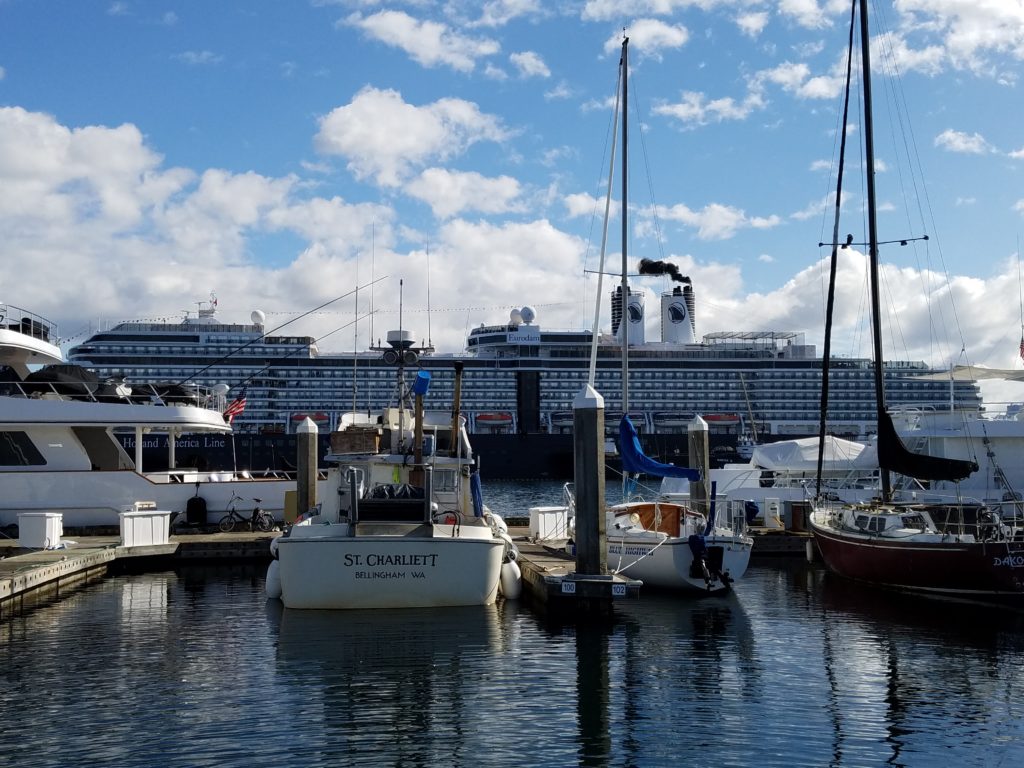 Our second objective, was to find a slip that either didn't have a slip mate or one that had a small boat. Since we were new boaters, we did not want to have to dock next to nice boats.  We walked up and dock docks N and M and took photos of different slips. Most of the slips we ruled out due to the slip mates, like this beautiful tug from Ranger Tugs.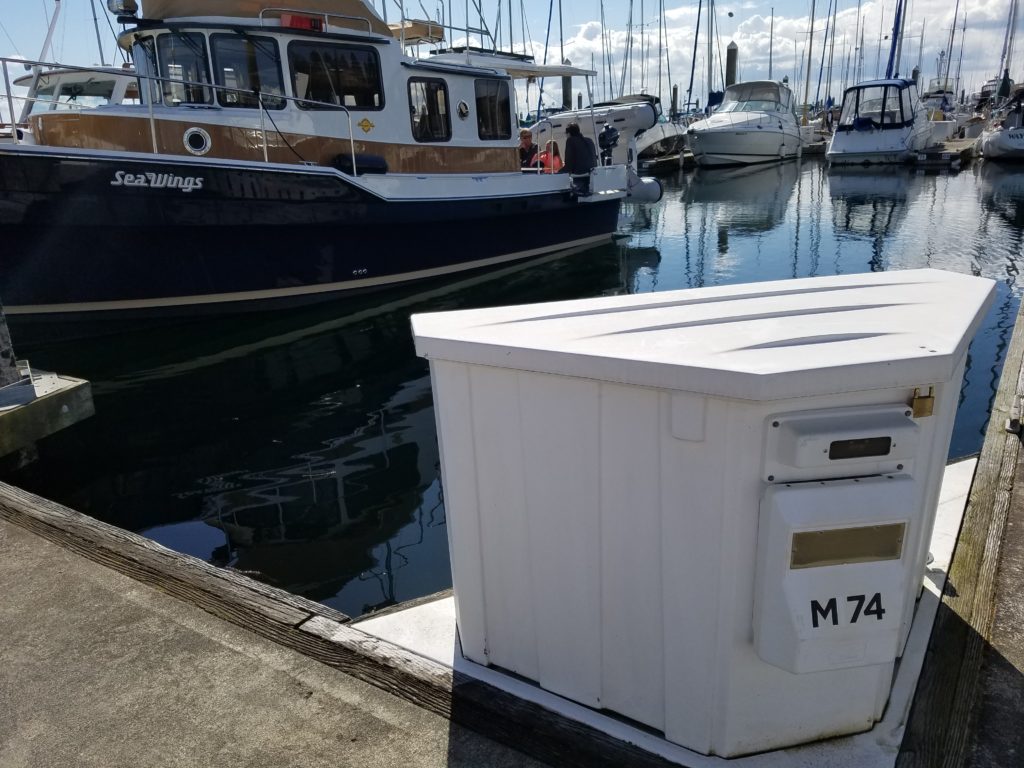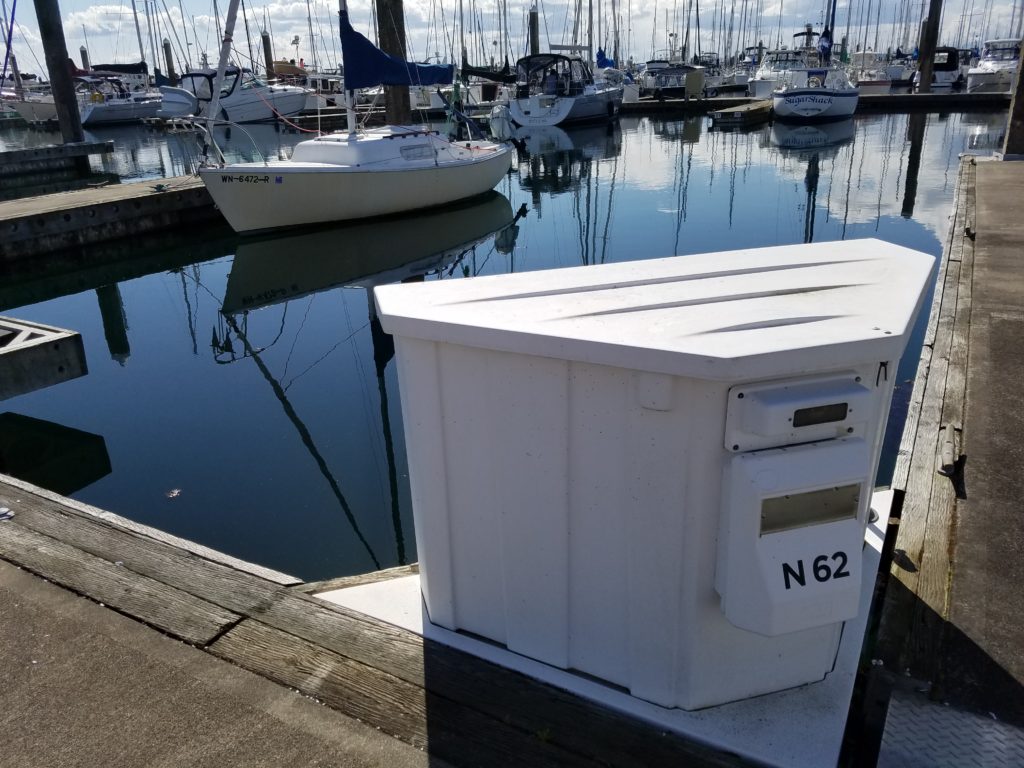 The marina had told us that even if the slips were empty, they would be occupied by summer. With that said, we took our chances and selected M95.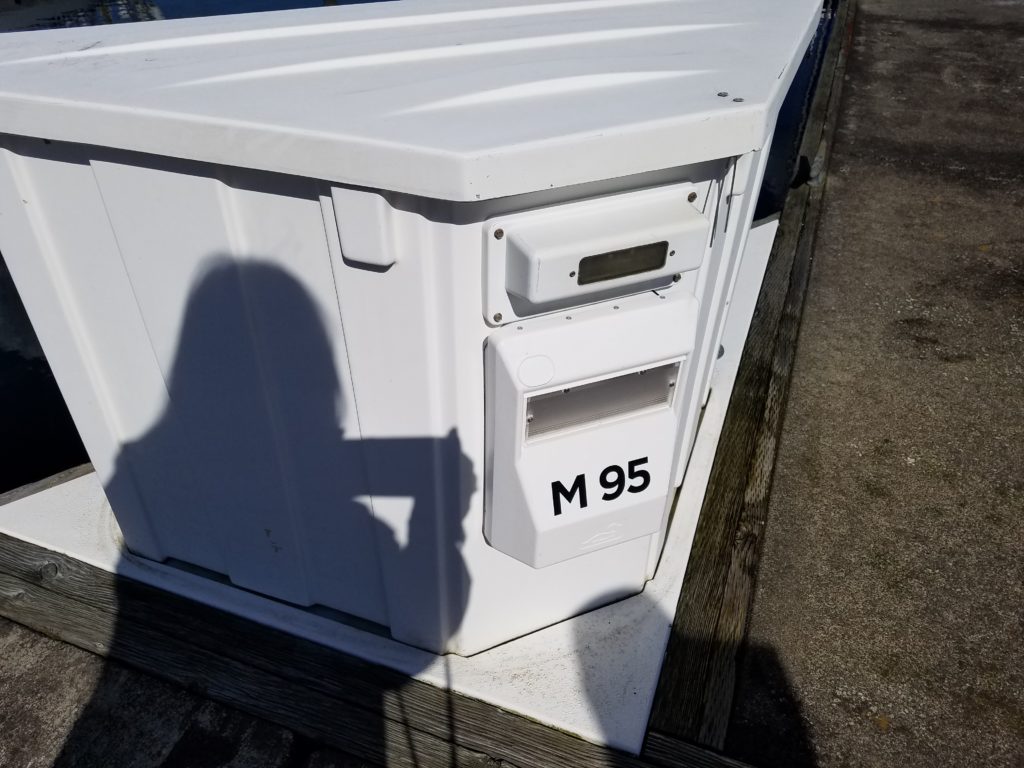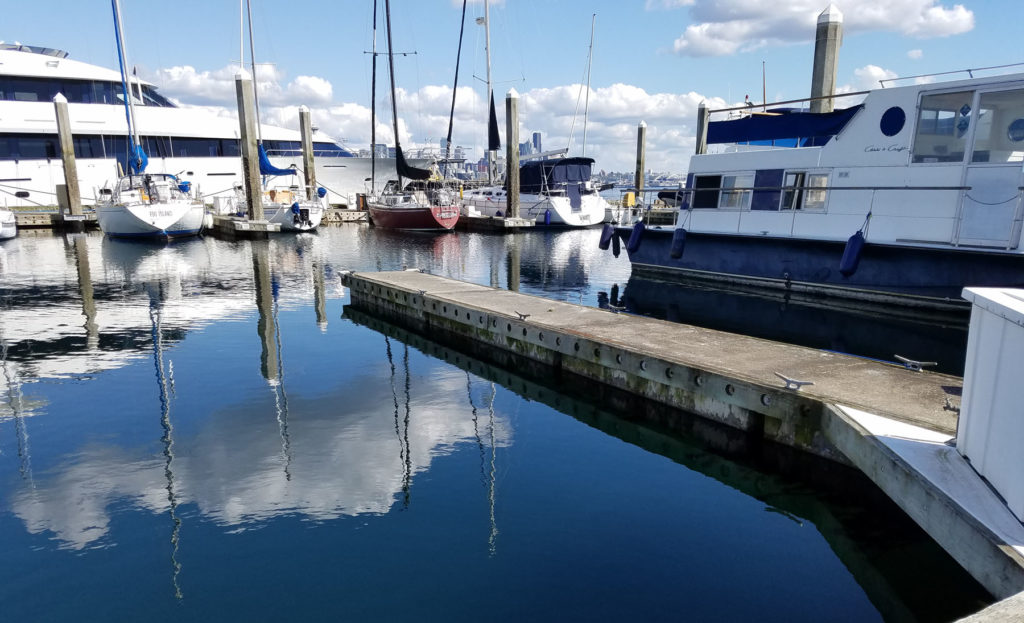 If you look really hard, you can see the Columbia Tower in the distance.  It didn't really occur to us at the time, that our bloat slip M95 was a quarter mile walk to the parking lot. Well, at least we get our exercise now.  The other thing we didn't realize at the time, was "how we had to get into the fairway" on our boat. Read all about that journey in this blog.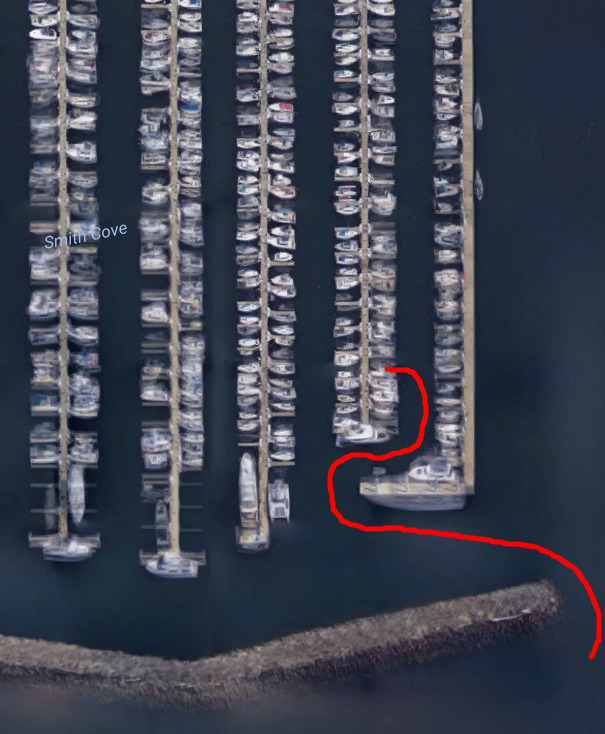 Eventually, we did get a slip mate (an aluminum fishing boat) about halfway through the summer.  That was a funny story too!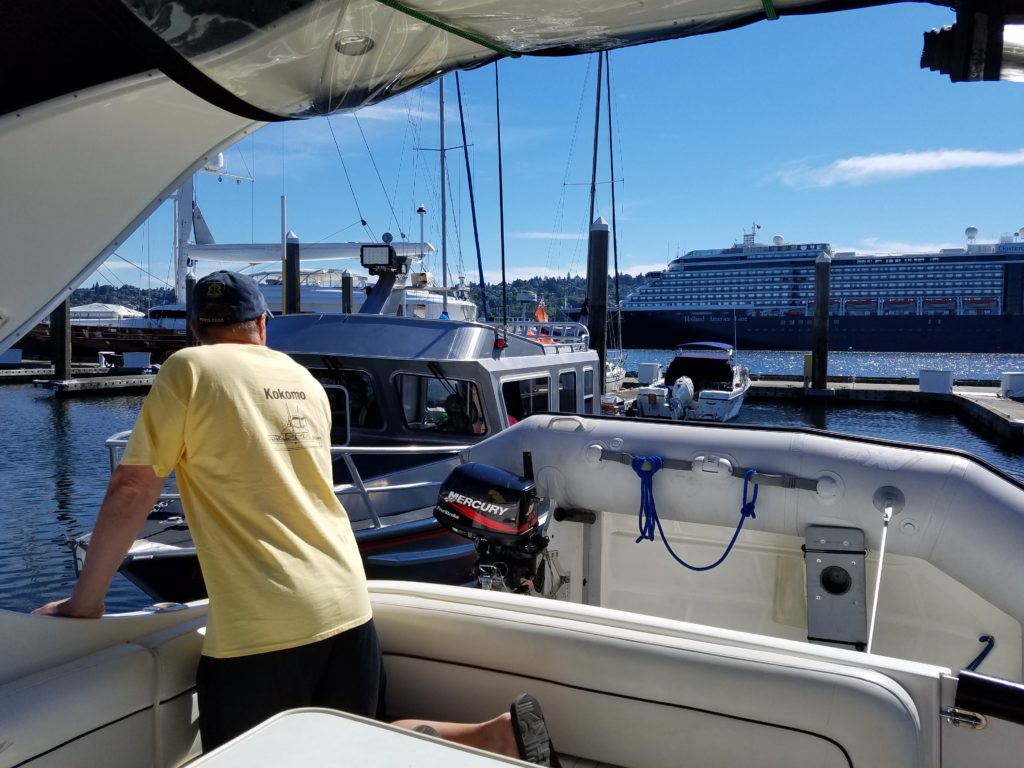 Summer is over and now what?
Now that it's winter time, many boats are gone. It's like a ghost town at our end of the dock.  In fact, our aluminum boat neighbor moved into a boat slip much closer to the parking lot a few weeks ago. I figure, we need the exercise and I still love the view of Seattle. It is definitely hard on our old golden retriever Mac as he can't walk that far these days. Unfortunately, he is declining at a rapid pace and doesn't spend any time on the boat these days.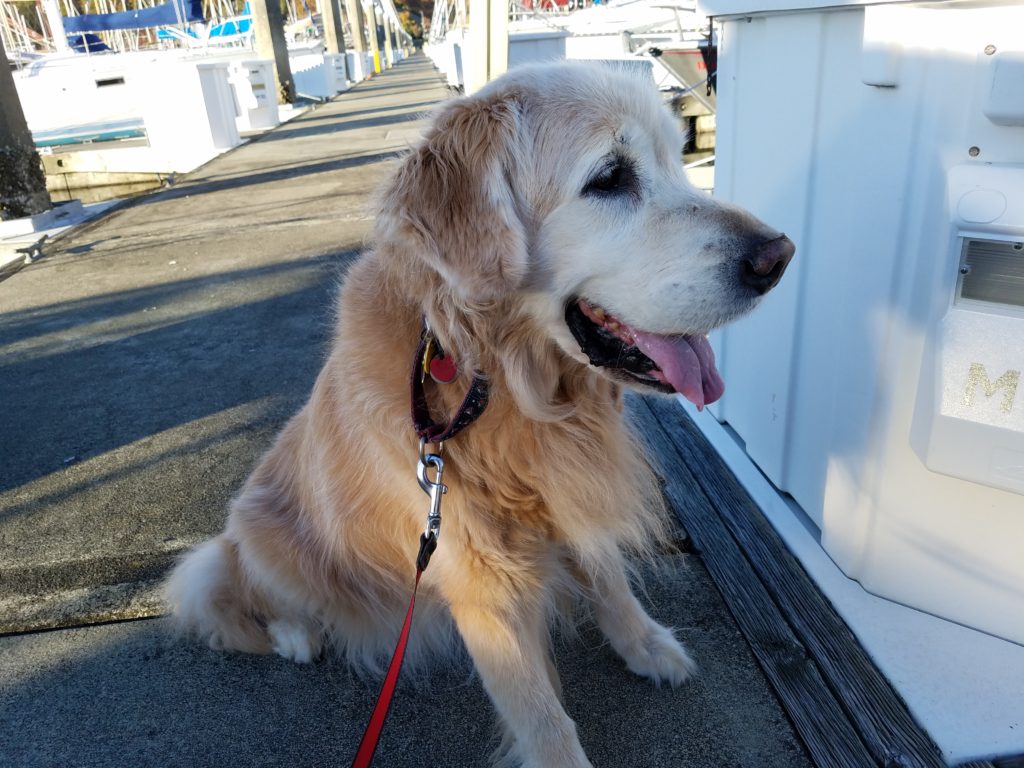 We found out this week that the boats all decorate for Christmas and there is a contest for the best decorated boat.  Of course plugging in a bunch of holiday lights freaks me out as you know from my previous blogs.  So we'll just put up a few to be festive. We are looking forward to the holiday party and meeting other boaters. Stay tuned for the photos of the event!
Cheers, Scott and Ally  #KokomoSeattle
Be sure to Follow us on Facebook, Instagram and Twitter!