Boating  Dogs
Boating dogs are everywhere, but boating with a senior dog is not as easy as you think. When we bought the boat, we just assumed that our 14 year old golden retriever, Mac would love the boat as much as we do. We bought him a life vest and quickly found out on day one that he didn't even want to get on the boat.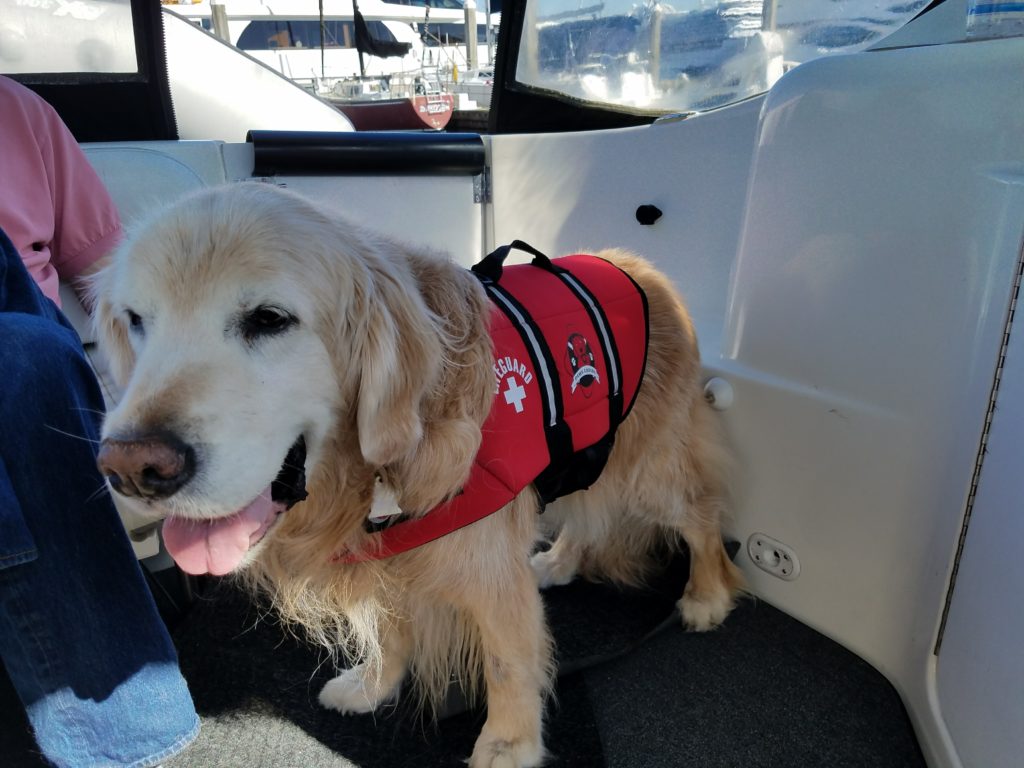 There are many books about sailors and their travels with their beloved fur kids. We also knew many of them had challenges traveling long distances with their pets, but that was because they couldn't go potty on land.  Come to find out, Mac just doesn't like new environments at his age.
Mac has been healthy his entire life, but when he turned 14 in April 2017 he really began to slow down. Walks could only be on flat surfaces and this is because he has some nerve damage in his spine.  Unfortunately, our boat is about a quarter of a mile from the parking lot.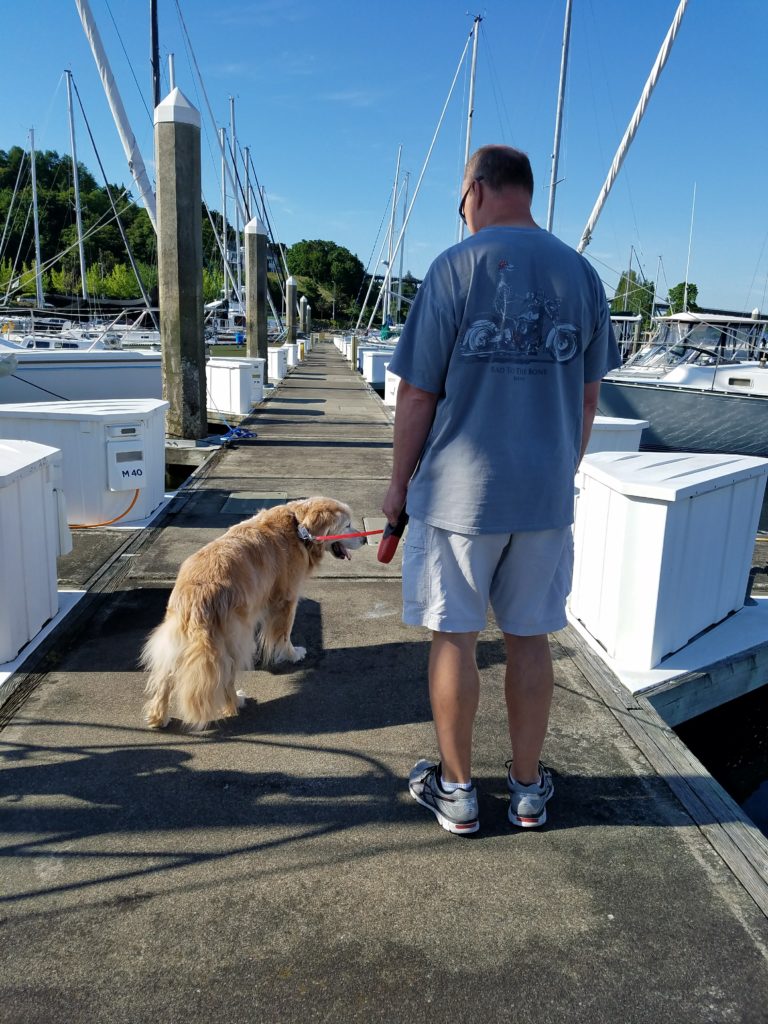 Scott and I found out early on, that since the walk is so long, that the dock has become Mac's potty area. At his age, he poops a lot (TMI) and we always have doggy bags.  We know the importance of dock etiquette and we will use a bucket with water to clean up after him.
Sometimes he makes it all the way to the main land and Elliott Bay Marina is super dog friendly. They have potty stations everywhere and almost all of the dock dogs are super friendly.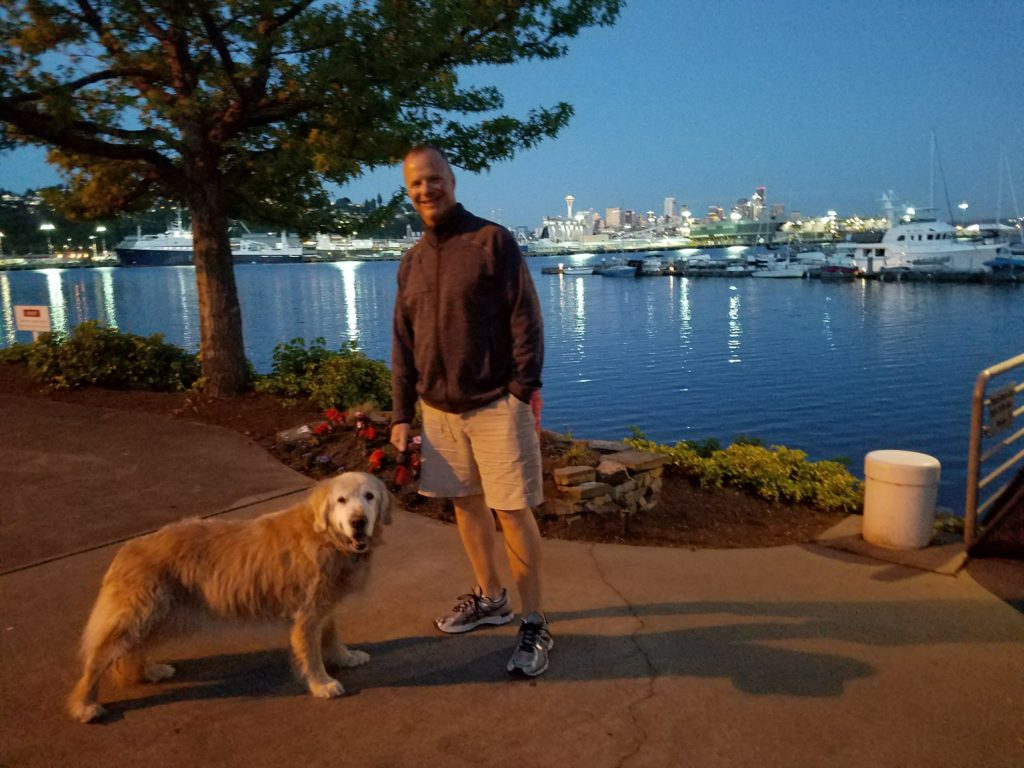 On the boat, Mac makes himself at home, especially when we are docked. He socializes with everyone and of course begs for food.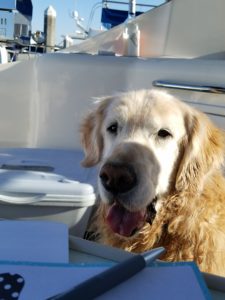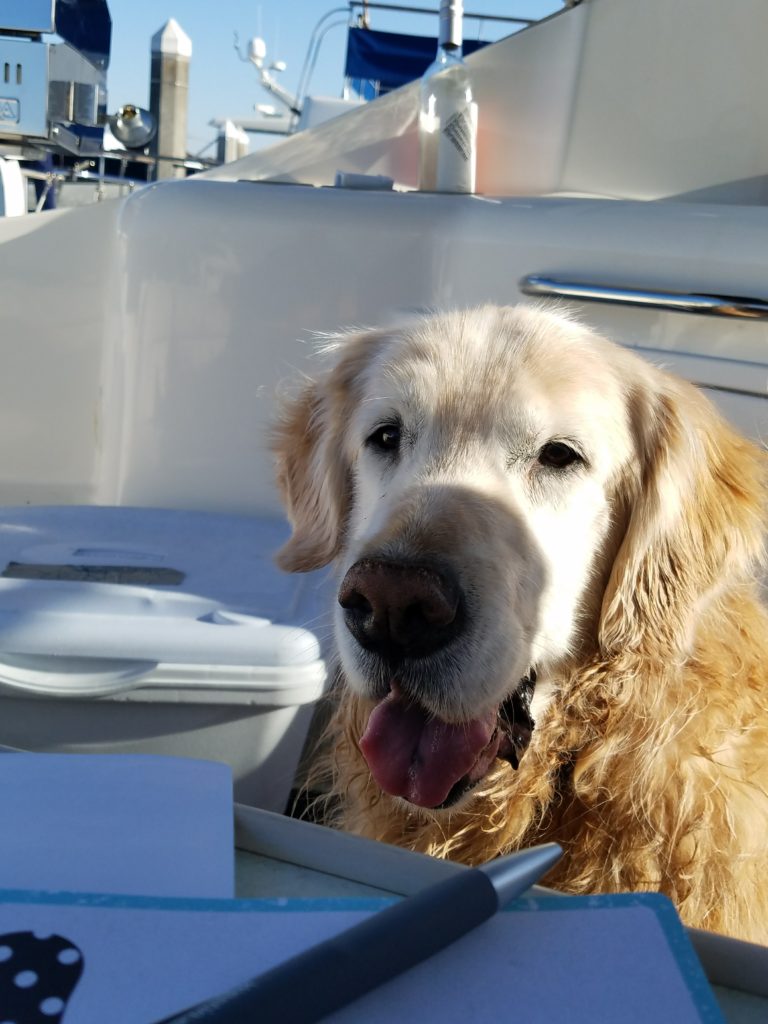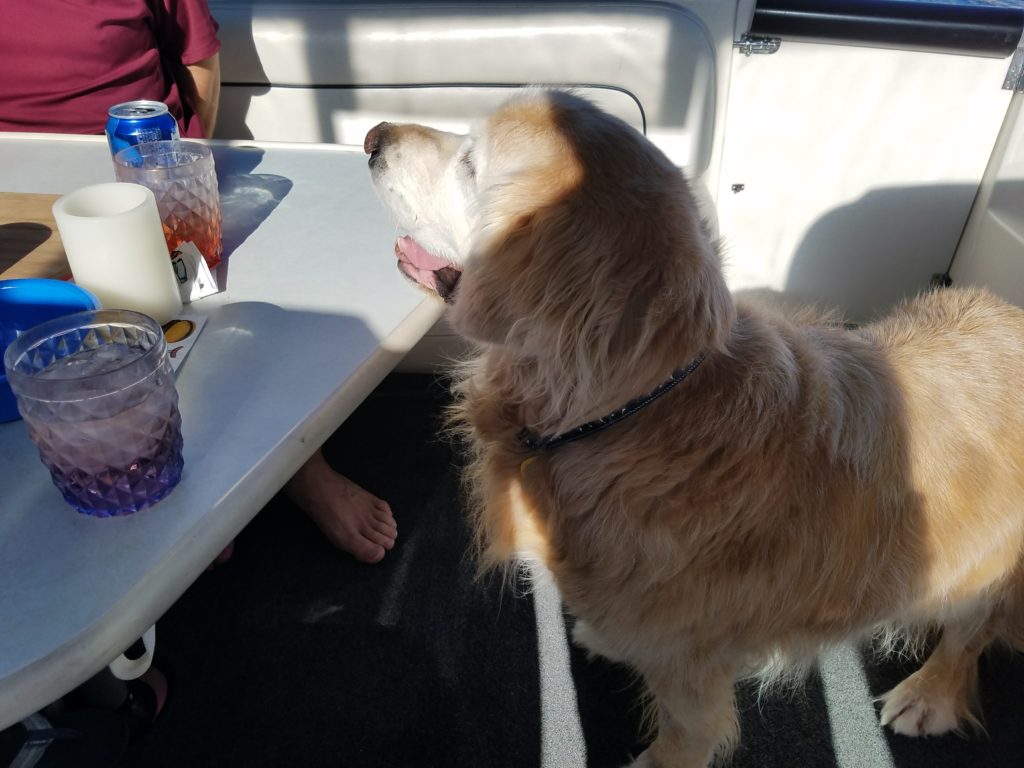 And the cockpit table is just his height! Nothing gets passed Mac.  There are two harbor seals that used to taunt another dock dog, Chuck. He sadly passed away in July 2017 and now they have been coming down to our dock. Maybe they are looking for Mac?
Day trips with Mac
When we do go out on the water for a day trip, Mac does not like it. Perhaps it's the movement or the sounds of the engines.  The first time, he jumped up on the cockpit cushions and I was worried he would try to jump out.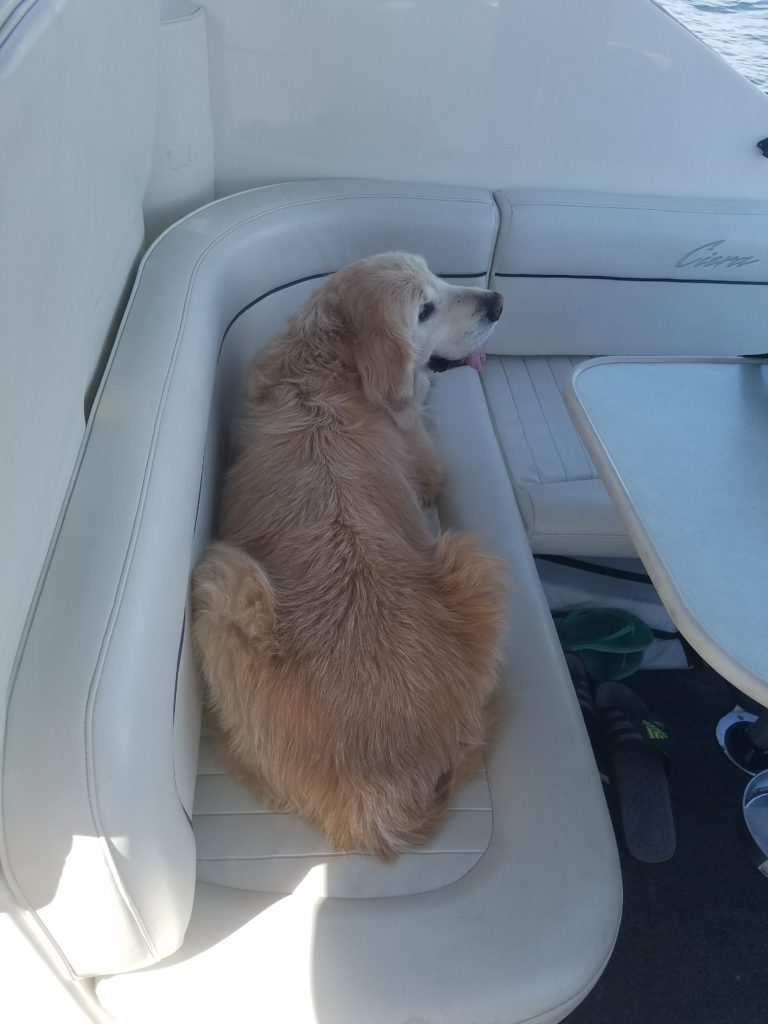 After that, we started putting him down in the cabin for his security.  He finally found refuge in the aft berth.  The first time we put him down there, we didn't think he would go under there and when he did, he had climbed over the barbecue and cooler to get there! Boating dogs has a cool ring to it, but it's not Mac that's for sure.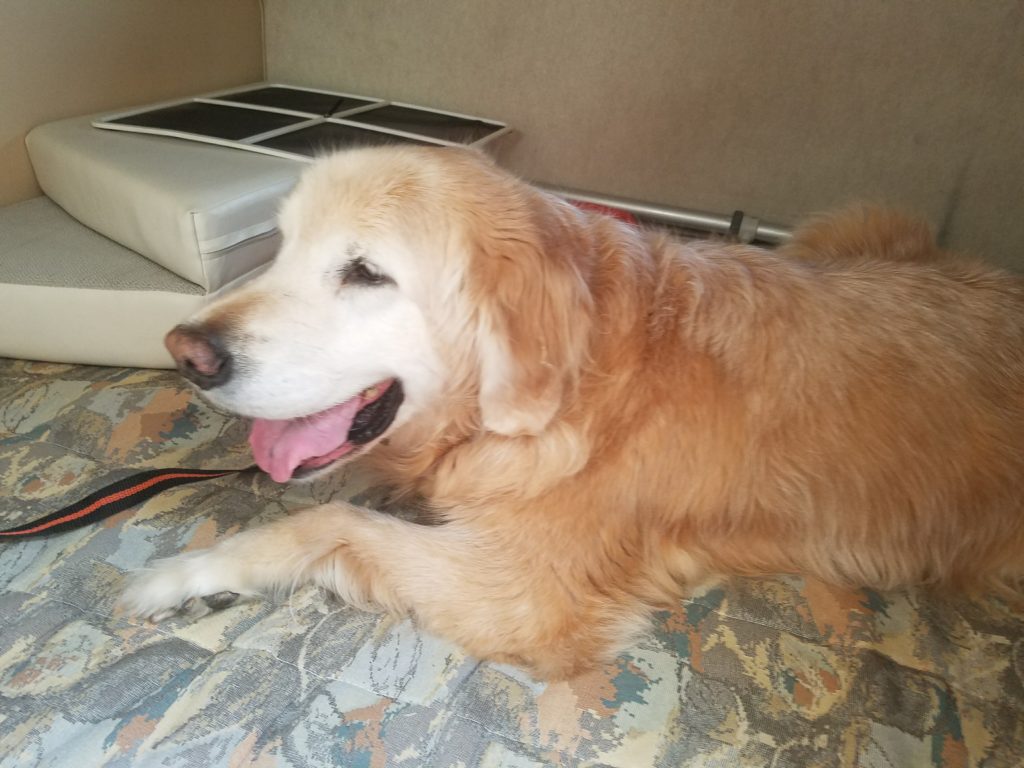 The tough part for Mac is the steepness of the stairs down to the cabin. He needs help up and down.  He likes to sit in the entry way while I'm prepping food in hopes, I will help him down. But as you know, our galley is so small that there is not room for both of us!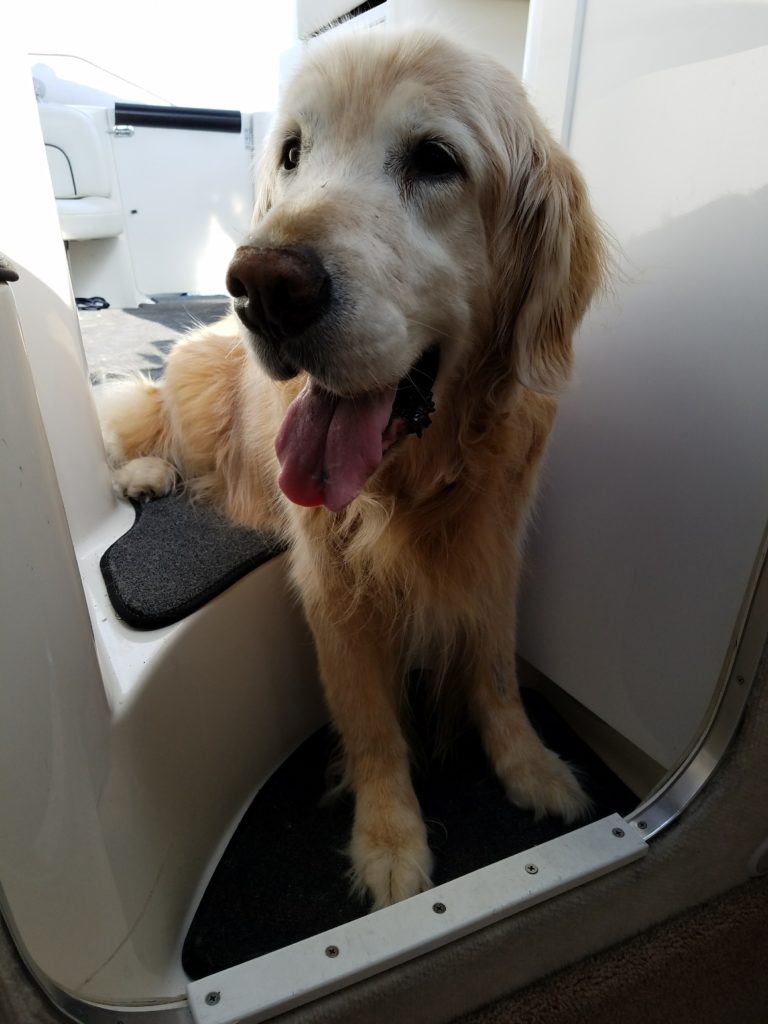 At 14 years old (April 2017) it's difficult to resist his sweet sugar face and I usually always help him down and work around him.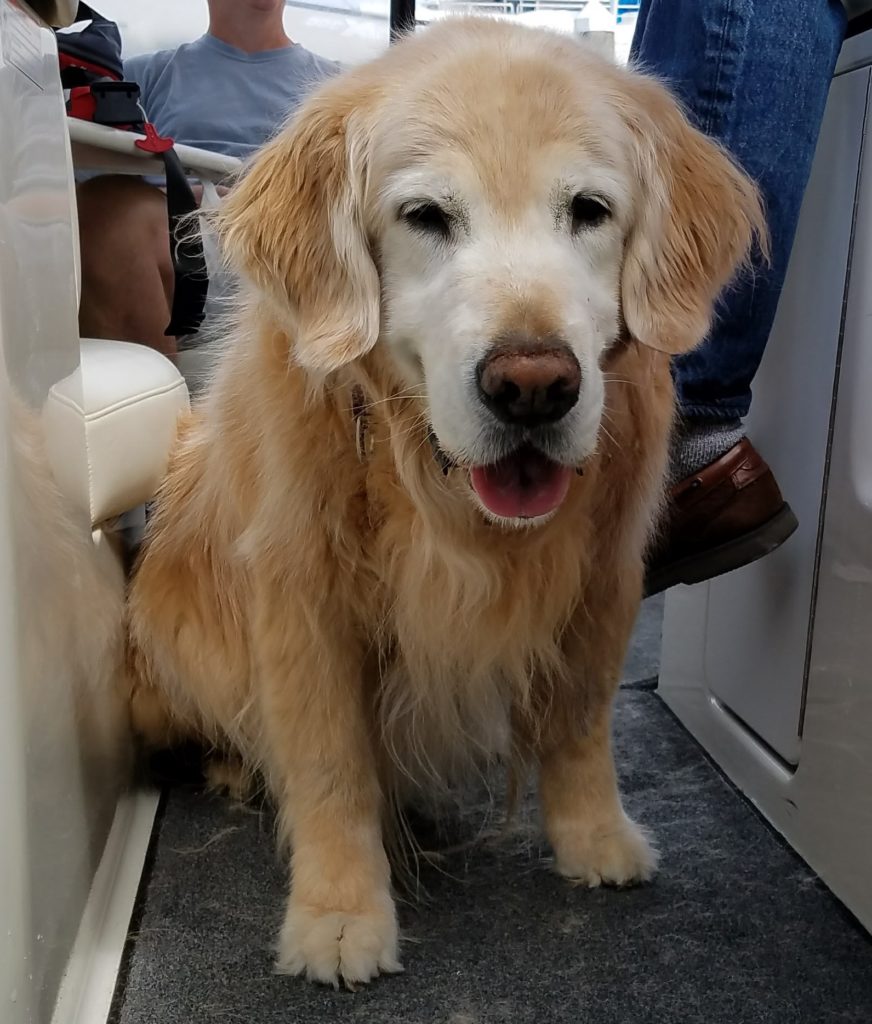 When we are relaxing on the deck, he usually ends of sleeping the entire time.  Notice how much hair is on the carpet! We did buy a Bissell Vacuum and it works great (I will share that info on another post), but we do bring our Dyson vacuum from home every few weeks to really clean the carpet.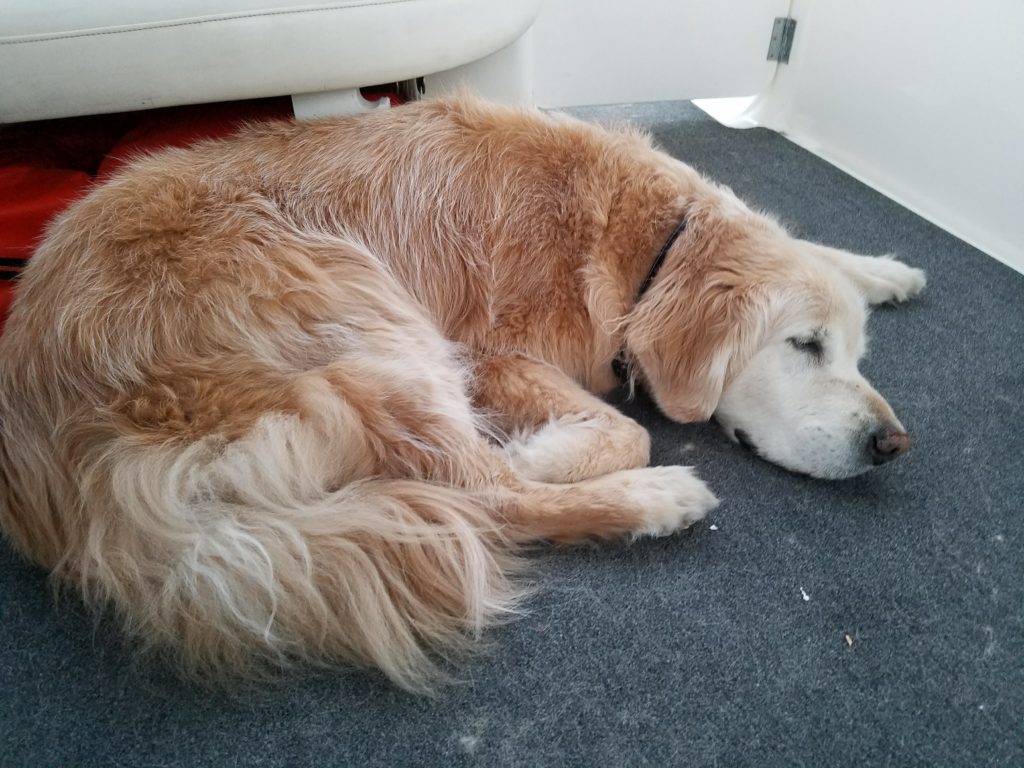 As Mac gets older on the boat
Knowing that Mac doesn't like to travel in the boat, we leave him with a sitter when we stay overnight outside of Elliott Bay. We know he doesn't have much time left with us due to his declining health and we want to make sure that every moment he's on the boat, he's happy and comfortable.
Scott and I had another golden retriever, Maggie and we said goodbye to her Memorial Day weekend in 2014.  We just are not ready to say goodbye to Mac quite yet, but we also will make sure that we are not selfish this time. Maggie lived about six months too long. Mac deserves nothing but love and comfort in his final months and we will make sure of that.
Cheers,  Scott, Ally and Mac