Boating in Seattle spending weekends on the boat
Scott and I live in Renton, which is about 40 minutes from Downtown Seattle. One great thing about mooring our boat, Kokomo at Elliott Bay Marina is we can go spend a night or two on the boat and feel like we are "getting away" from it all.
Seafair 2017
Seattle has had one of the driest and hottest summers in history and we wanted to be sure to take advantage of every nice weekend we could.  Seafair is our big summer celebration in Seattle.  The festival ends with the hydroplane races on Lake Washington and the Air Show that includes the Blue Angels.
For us to go to Lake Washington to see the races and air show, we would have to go through the Ballard Locks and during the summer time, this can take hours to get in and then hours to get out.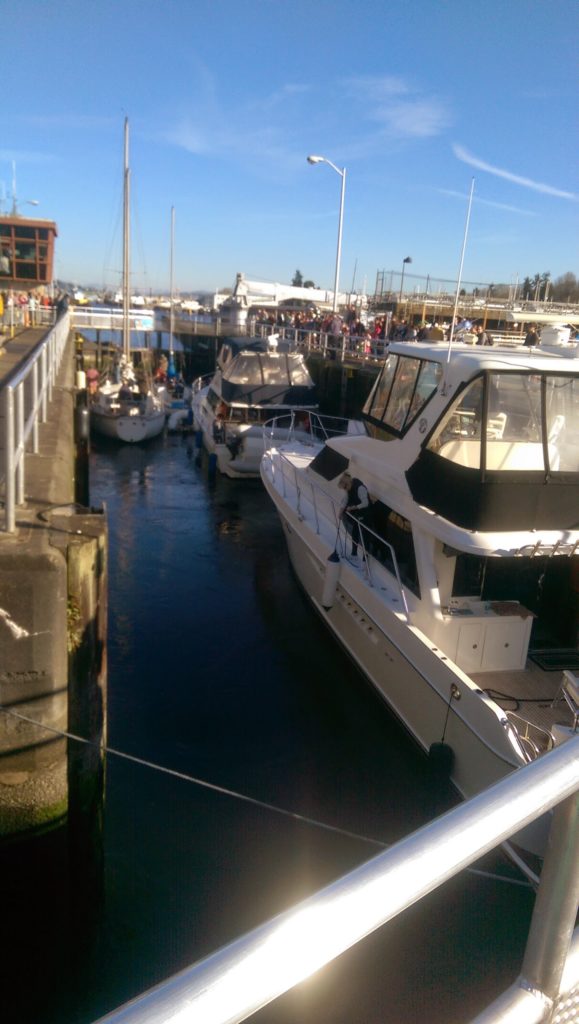 We decided to watch the air show from Elliott Bay and hope that the Blue Angels would make a few fly overs.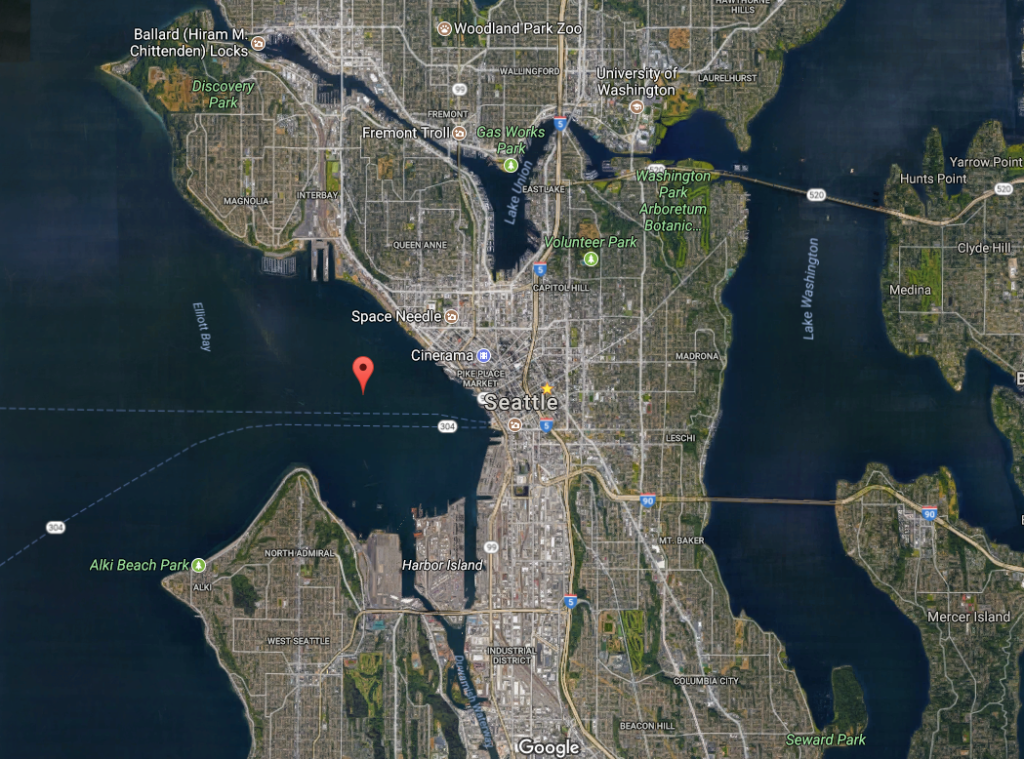 Scott and I took his sister Cherie and her family out for the day. Unfortunately, due to all of the smoke from the B.C. fires, Seattle was very smoggy and visibility was limited. Yet, we still all managed to have a good time.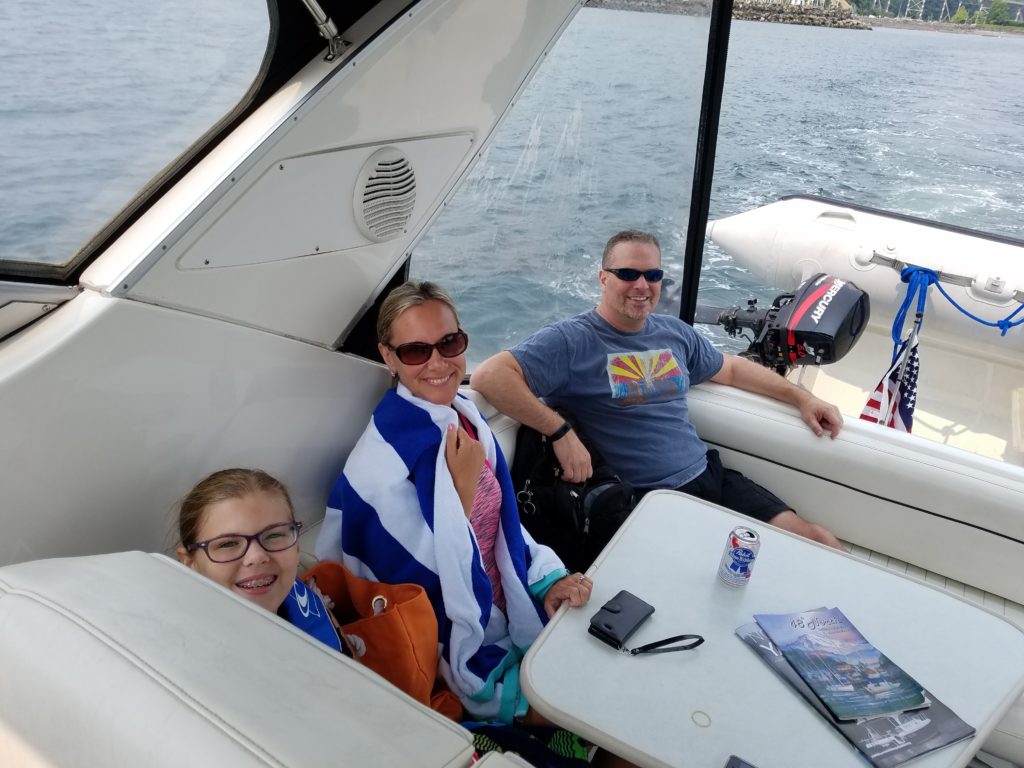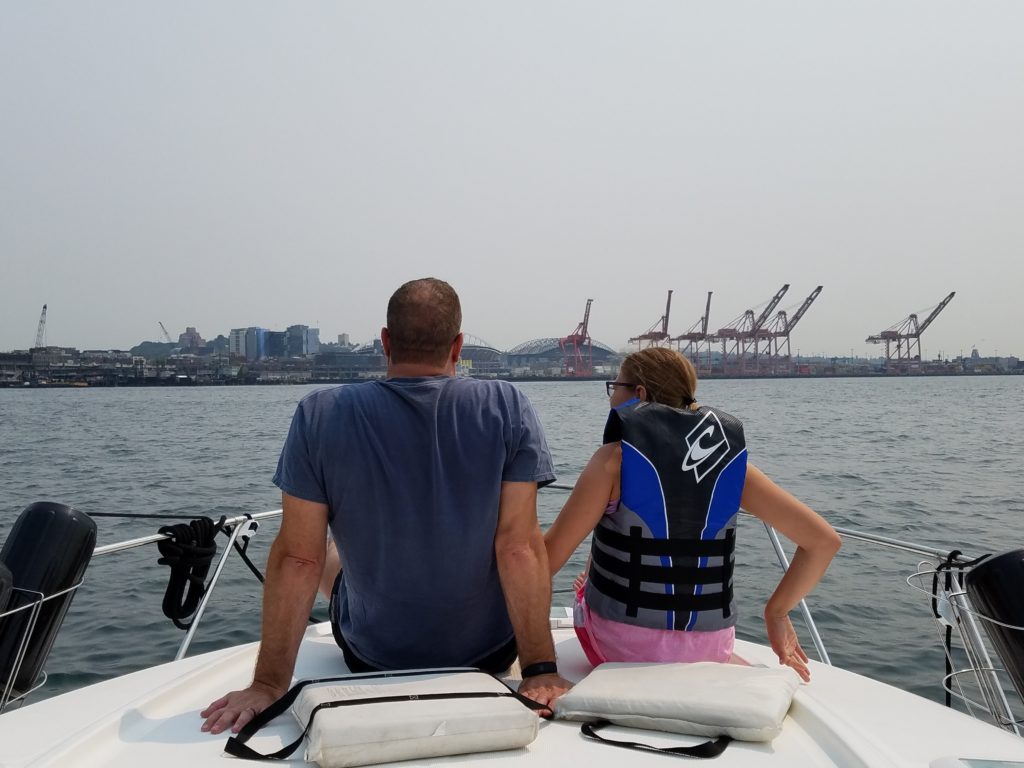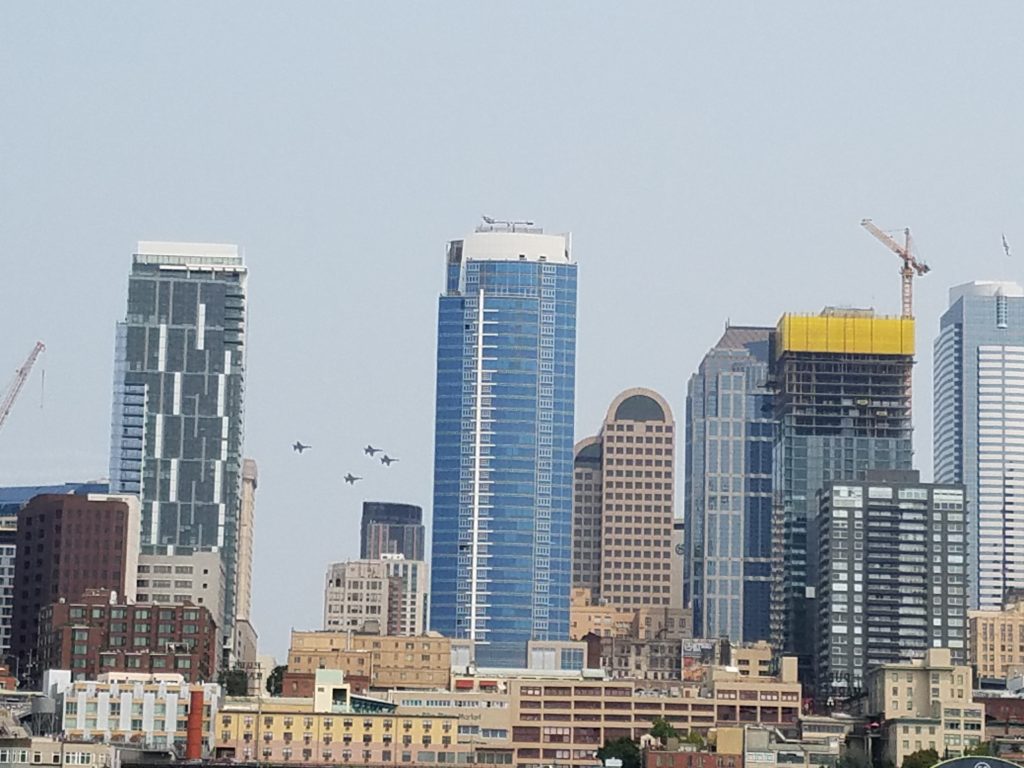 When the Blue Angels flew out of Boeing Field, they first came right over us and then over the city. It happened so fast, I didn't have a chance to take a photo.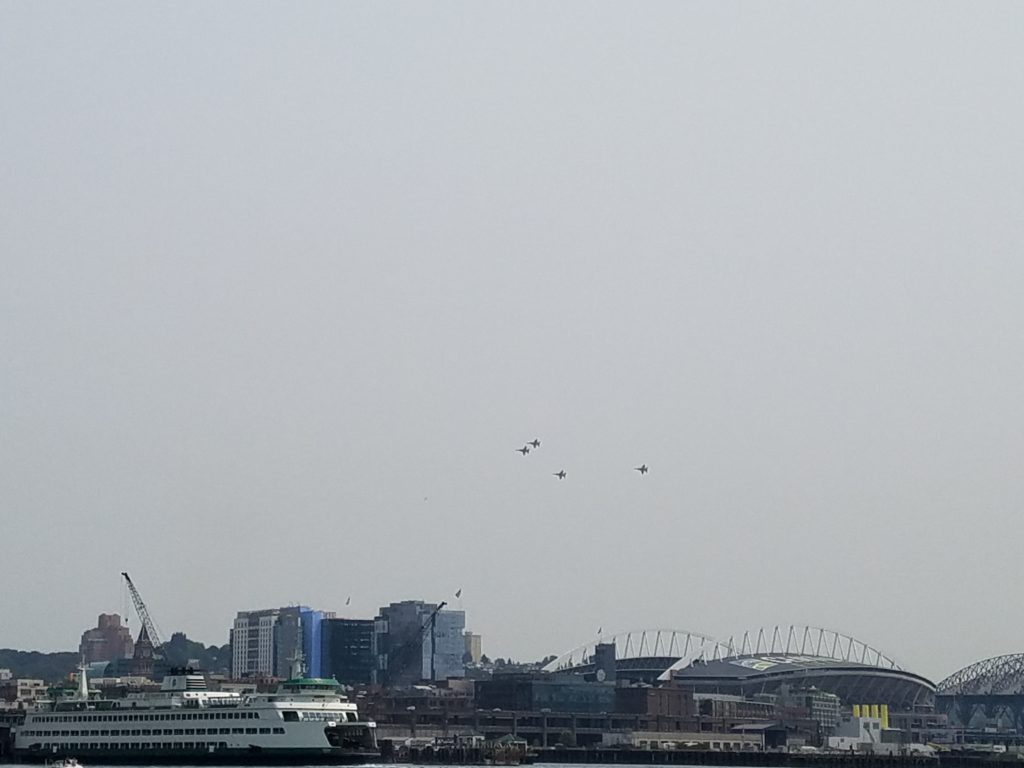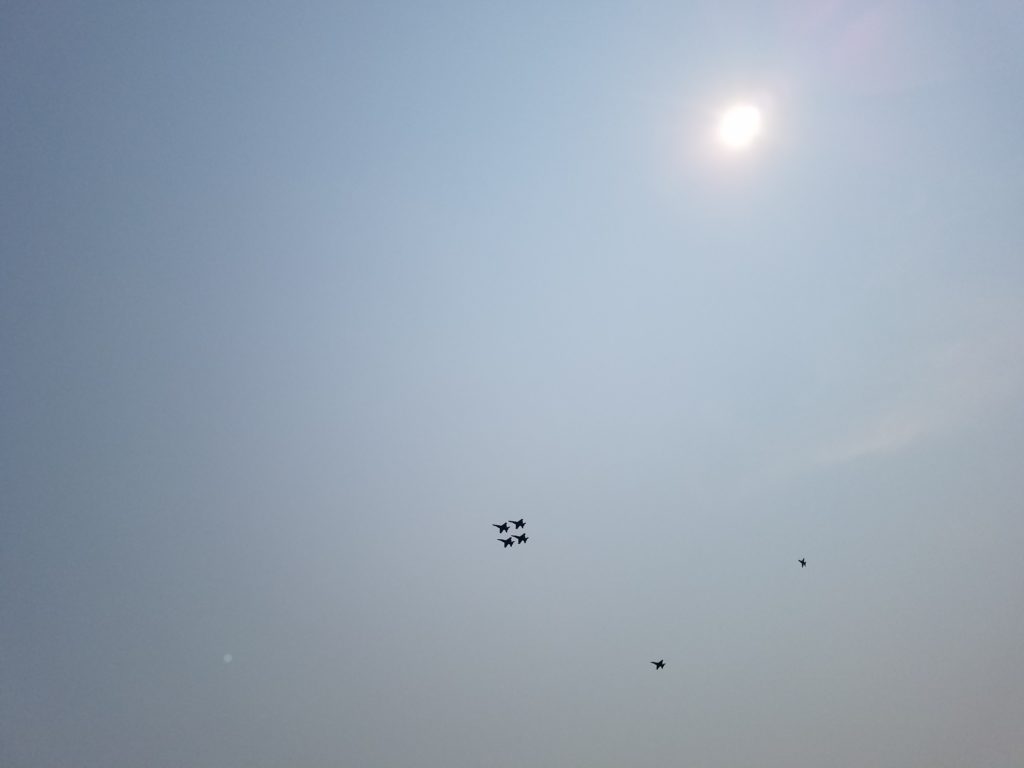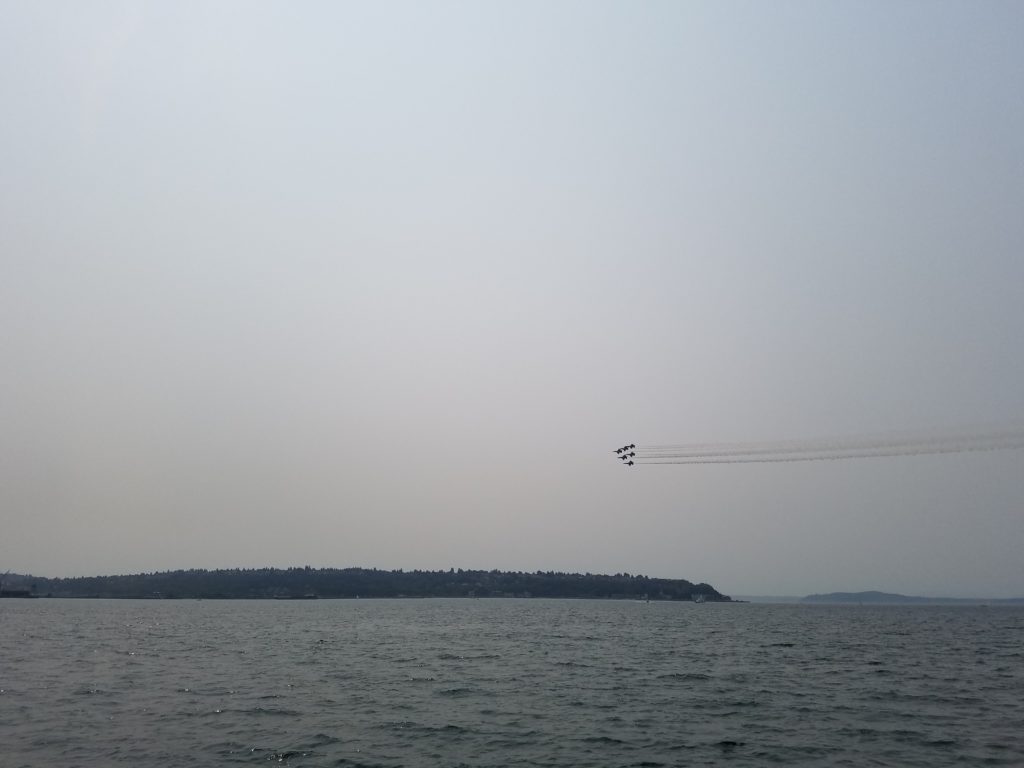 Just when we thought they were gone and gone, they made one final flyover above us! That made the day perfect.  So if you are thinking about watching the Blue Angels on Elliott Bay, know that you won't get to see them very close.
Where to go for an afternoon?
The following weekend, Scott and I invited our friends, Matt and AJ for a day on the water with dinner. That morning we woke up to 8mph winds and it was cold and cloudy. They were not scheduled to come down until 2pm and we were worried the weather would get worse. Luckily, the day got warmer and sunnier so the plan was still on.
I had remembered a few years ago that my sister took us over towards Bainbridge Island for lunch in a cove.  I found out it's called Port Madison and we decided to zip over there for a visit.  It was a quick 20 minute boat ride going about 18 knots west.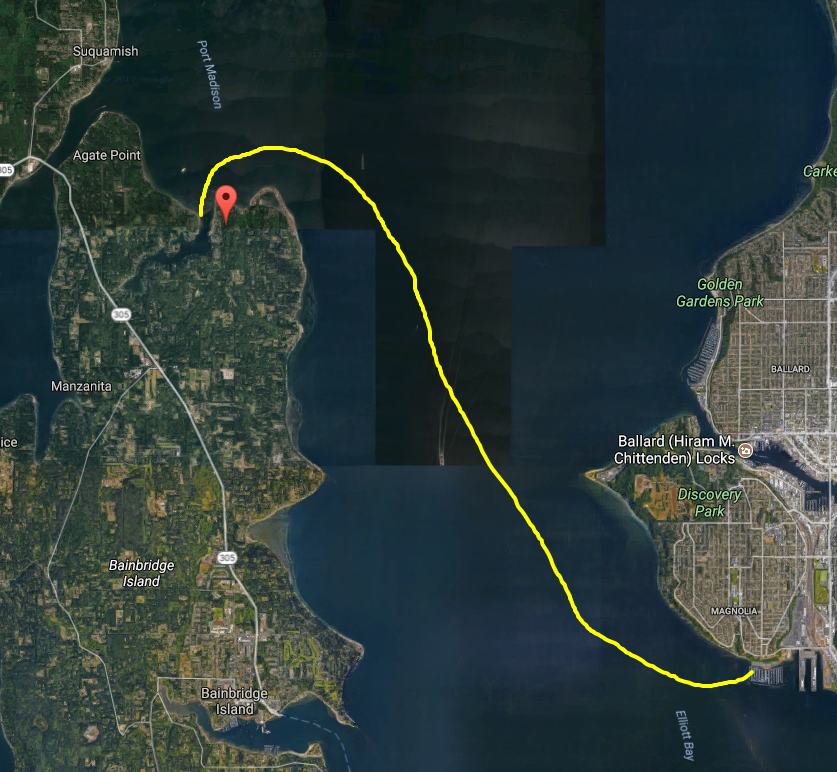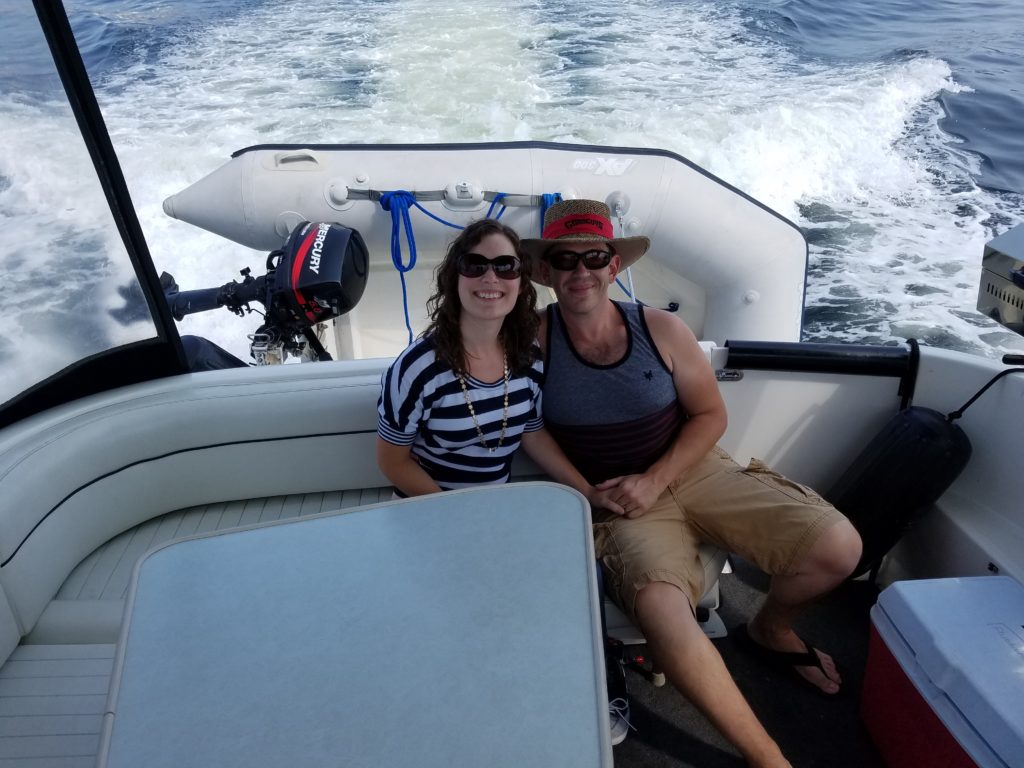 Just as we approached the entrance to Port Madison, we saw a large pod of dolphins! They were so quick, that none of us captured a shot of them.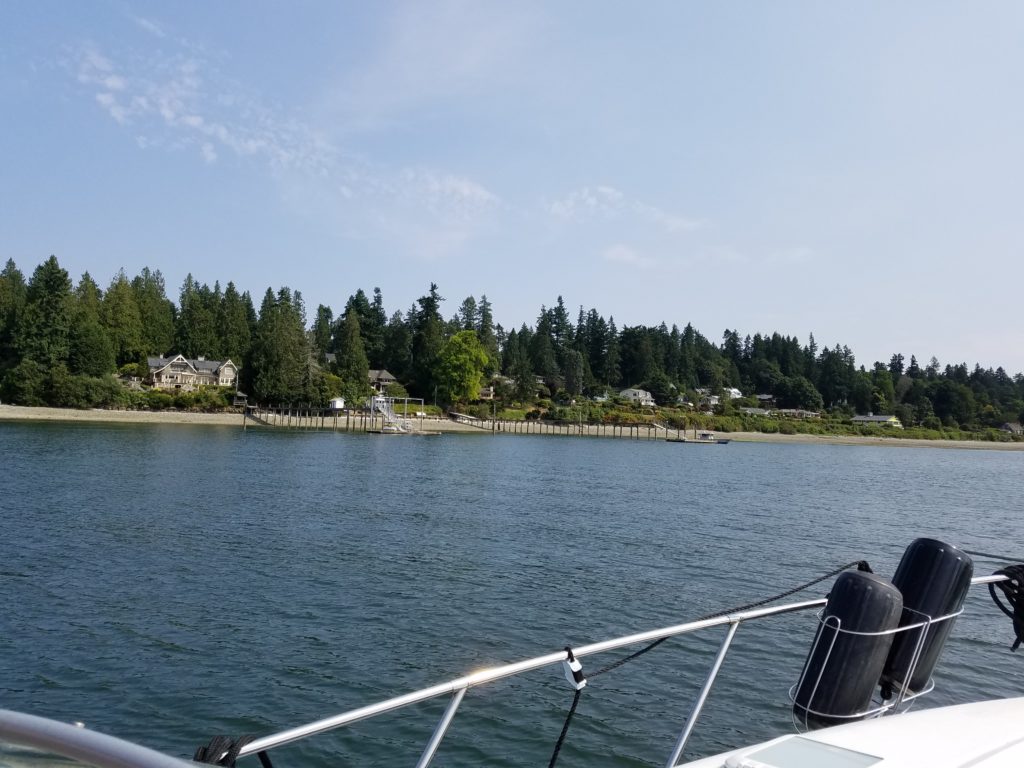 Port Madison is deep and we only went in about one quarter of the way, as it got very shallow, about 4′ deep. Yes, I know our draft is only 2'9″, but 4′ is shallow enough for me to be a bit freaked out! We turned around just before Treasure Island.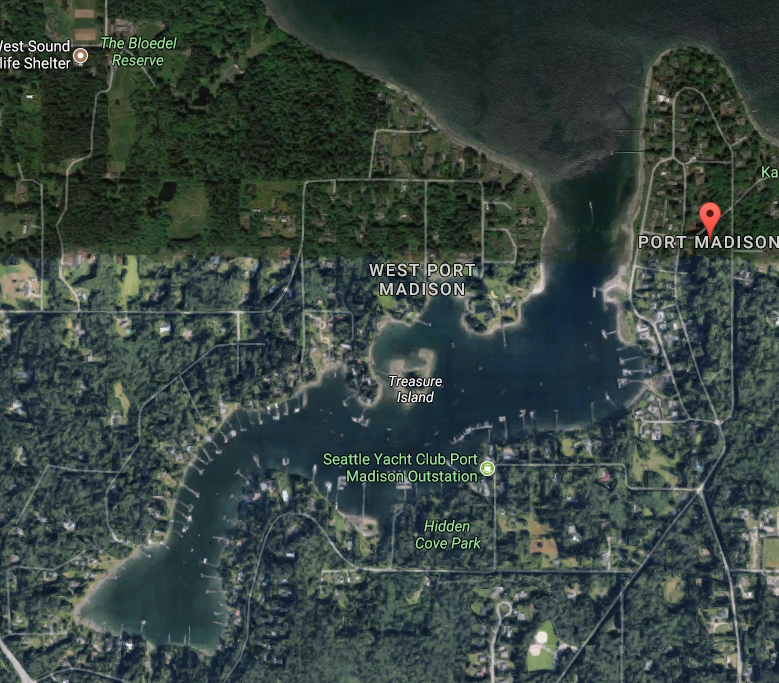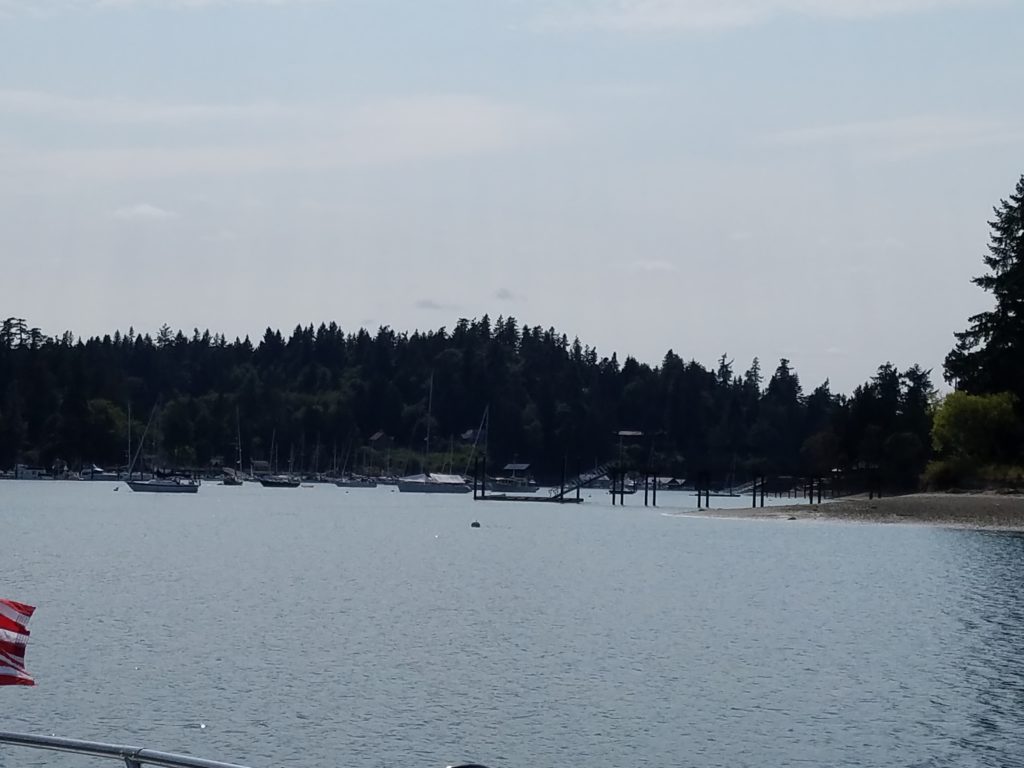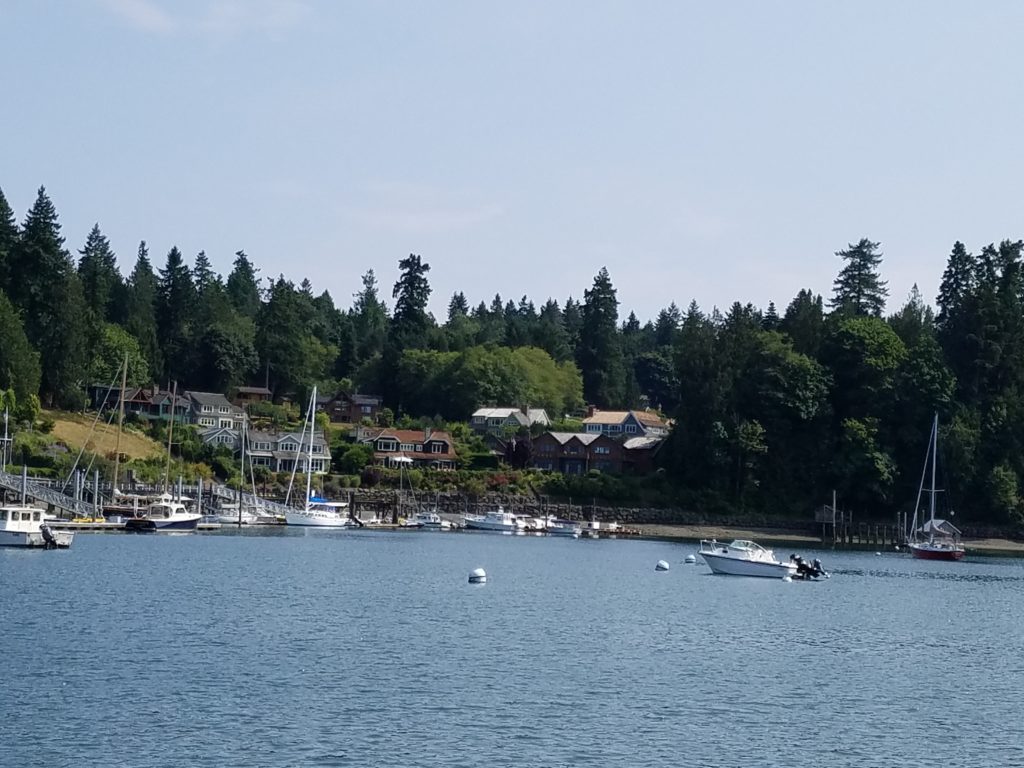 After we turned around, before Treasure Island it was nearly as bright, so the scenery was much better.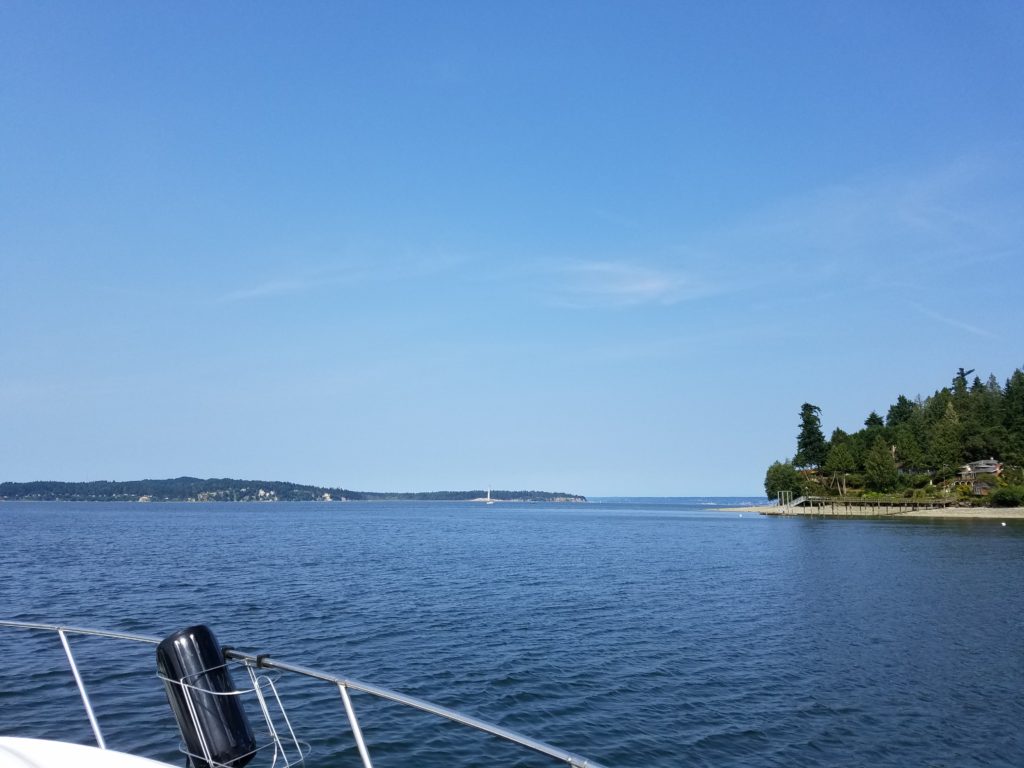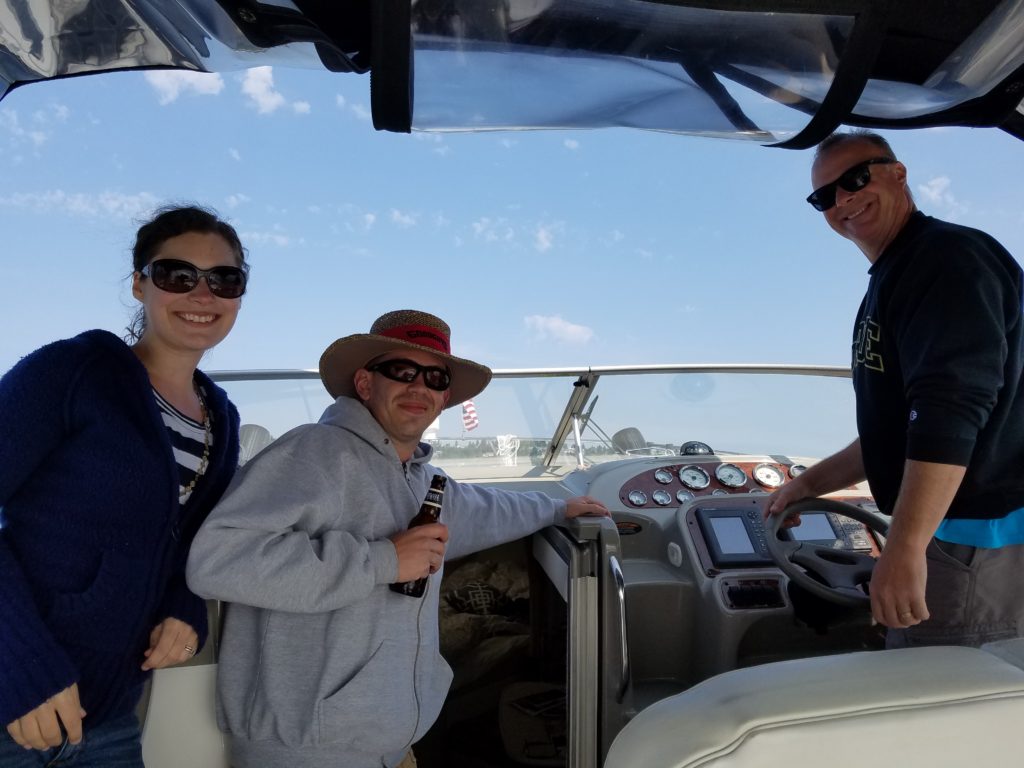 It does get very chilly going across the sound, even on a hot 90 degree day. We always end up bundled up after a few minutes on the water.
Once back into Elliott Bay, we had to wait for the one of the cruise ships to leave. We have two ships docked across from us and they leave around 4pm daily.
We finished the day relaxing on the boat and enjoying a fantastic dinner with Matt and AJ.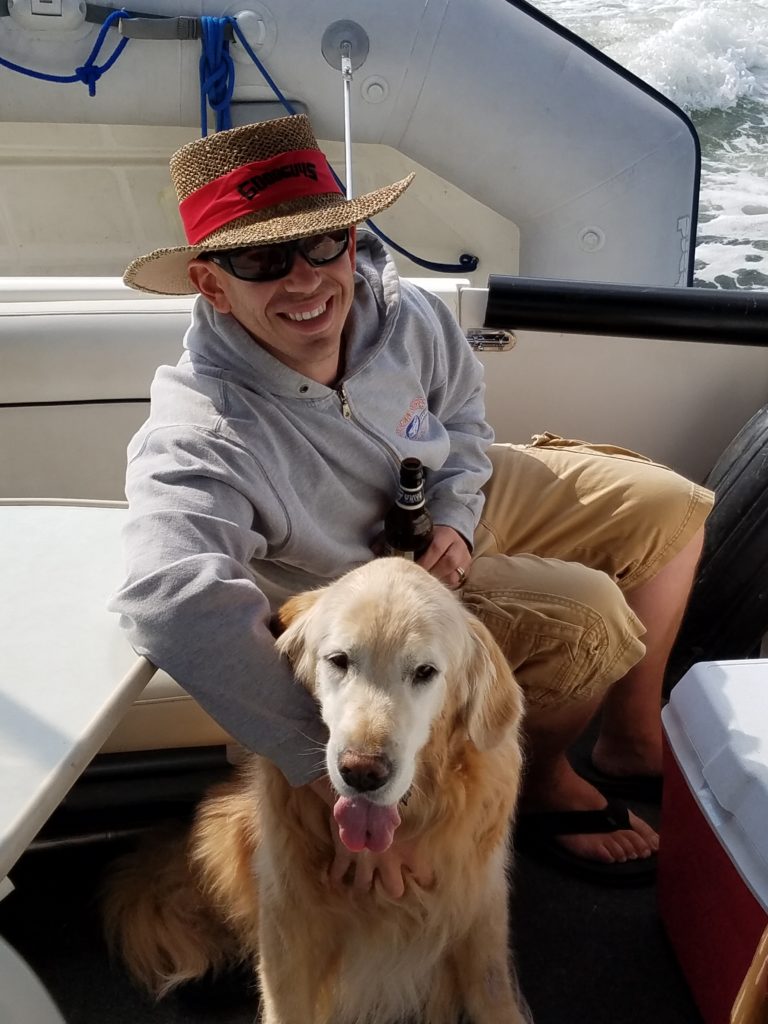 What to make for dinner?
Knowing that we were all going to be out boating all day, I didn't want to come back and have to spend an hour prepping dinner in our small galley. Planning ahead, I decided to make my Chicken & Tortellini Salad with Grilled Artisan Bread. Another perfect weekend on #Kokomo!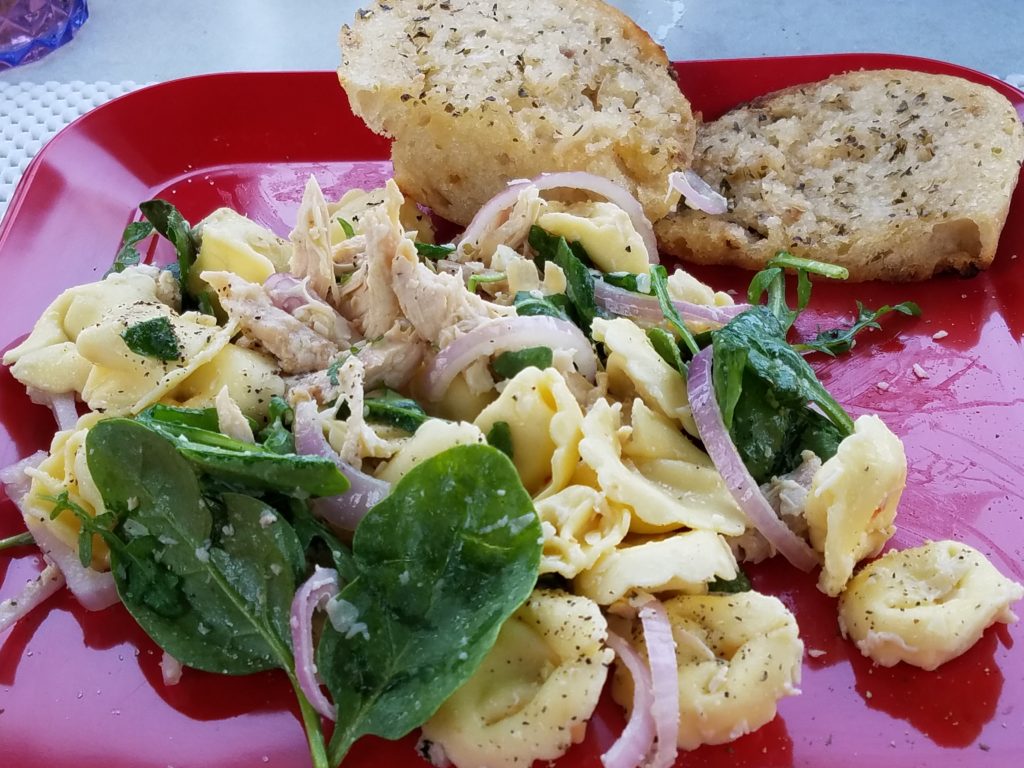 Print Recipe
Chicken & Tortellini Pasta Salad
Yum
This hearty chicken and tortellini pasta salad is perfect for a hungry crew on a hot day.
Cook the pasta according to the directions. You can do this ahead of time and mix with a little bit of the dressing to keep it from sticking together. When ready to serve, mix all of the ingredients together, season with salt & pepper and serve chilled or at room temperature. Serve with grilled artisan bread.