Sailing the Caribbean
Sailing the Caribbean is our dream. Many might ask, what's with the dream of exploring the world on water and why? Where did it come from?  Honestly, that dream has been with me for many many years (probably longer than Scott). First of all, I grew up on boats. While they were only fishing and water skiing boats, we spent our summers on the water. It doesn't matter what you are doing, being on the water just brings a sense of peace and adventure.
Back in the 80's and 90's my mom and I would vacation in Hawaii and one year we were lucky to sail on the America II Sailboat. The America II was a 1987 America's Cup Challenger. This prestigious yacht was custom designed and built, at the cost of $10 million, for the sole purpose of competing in world-class racing. After completing her transpacific race she was retired from racing to do sailing tours out of Lahaina Harbor on Maui. Because it was a racing boat, it was bare bones….barely had a head (bathroom).
We sailed it to Molokini and that was the trip that hooked me. The serenity of flying over blue waters with dolphins next to us and then arriving to a location where sea turtles and tropical fish surrounded you is so unreal. I wanted to turn the boat around and go back when we got home!
Later in my adult life, I owned a 27′ "weekender" and spent many weekends up at the San Juan Islands. I remember exploring the islands one day and decided to go north and out of the blue, a pod of Orca whales surrounded our boat. They literally were just feet off of our anchor platform. I took a ton of photos (but this one is not mine). It was one of the coolest experiences I have had.
Scott and I were married in 2003 and we spent our honeymoon in Antigua. We booked two sailing excursions on that trip and soon he was hooked too! We took a catamaran snorkeling trip and then finished it on a sunset sailing cruise. What a honeymoon to remember!
Back to Antigua & Jamaica
We decided after that trip, that we would always include the water on our future trips to the Caribbean. And any chance we had to be on the water, we took advantage of it. It's the best therapy you can find! We returned to Antigua in 2010 and took those same two trips again.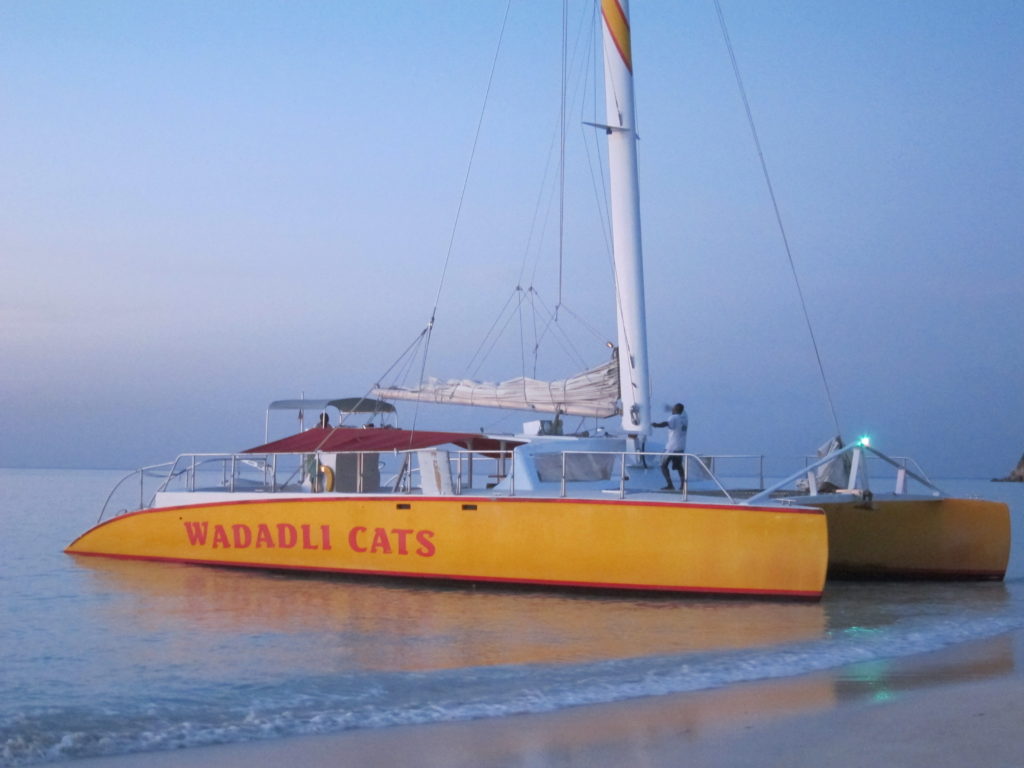 The following year, during our visit to Sandals Whitehouse Jamaica we had one of the most memorable trips on a Catamaran as we visited Floyd's Pelican Bar….a bar on a sandbar!
On another visit to Jamaica we took another sailing trip and just our luck, the skies turned dark and stormy. It was still a very cool experience and the S/V was huge! It had 2 Cummins engines and it had a capacity of 100ppl!
Looking for Water
No matter what the situation is, we still love being on the water and forgetting all about the rest of the world. It's not always a bed of roses, in fact, more often than not it's work. Scott and I are willing to take that challenge and explore. For now, it might only be a boat show or a day on a family's boat, but we're still on the water! We hope to buy a boat in the next few years!
I guess in the end, the water has more meaning to us than we know and everyday it's a new experience and a new memory. The photo above of my mom, she had so much fun….it was about a year before she died.  We also chose to sprinkle Maggie's ashes (our golden retriever) in Port Susan at Camano Island. It was one of the most spiritual and memorable experience regarding a death…..very peaceful.
When days get me down, I just look back on the journeys we had and remind myself that new ones on the water are just around the corner. Cheers, Ally